ACCESS STATEMENT
The purpose of this access statement is to provide information about our 5-star lodges and the surrounding woods, This information is to enable those considering staying at the Tranquil Otter to make an informed decision about the suitability of our lodges for their needs. Please let us know if you need more information than that provided in this access statement.
NATIONAL ACCESSIBLE SCHEME RATINGS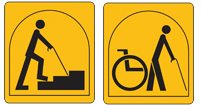 Alder, Buzzard, Dunnock, Egret and Heron lodge achieve NAS grade M1 – This grade states that these lodges would also be suitable for those guests who can climb a flight of stairs, but banisters or grip handles make this easier.
Dunnock, Egret and Heron lodge achieve NAS grade M2 – This grade states that these lodges would also be suitable for guests who have problems walking or can walk a maximum of 3 steps, or need to use a wheelchair some of the time.
A summary of NAS ratings by lodge is provided at www.thetranquilotter.co.uk/accessible-lodges. If you require further information and it is not covered in this access statement? Please do ask. We will do our best to help.
PRE-ARRIVAL
We have tried to provide information in this access statement without repeating that provided elsewhere on our website. Each lodge has its own page providing information and a picture gallery. You can book by email, phone or online. Additional information can be requested by post if preferred.
The availability grid on the Book Now page on this website shows live information, which means that if the dates you require are shown in green, it is available, you can book it or reserve it provisionally for two to three days. You may not be able to book the lodge online if some of the dates you require are showing red. You may also not be able to book if your arrival day is not Monday or Friday. In such instances please email us and we can send you more information that will enable you to book at your leisure. Please note we are not able to take card payments over the phone.
TRAVELLING TO THE TRANQUIL OTTER BY TRAIN
The nearest railway station is Carlisle which is five miles and about 15 minutes by car. There are regular direct trains from London (3hours 20min), Birmingham (2hours 45min), Manchester, Glasgow (1hour 30min), Edinburgh (1 hour 30min) and Newcastle (1 hour) to Carlisle. Phone 08457 484950 for times or see www.networkrail.co.uk.
We have made arrangements with a local Taxi firm that provides an accessible taxi service. Direct arrangements can be made with Barry Haden on 07766 700 020.
ARRIVAL AND PARKING FACILITIES
Check in is from 4 pm to 6 pm and check-out is before 10 am on departure day. A limited number of earlier and later check-in times are available and charges may apply.
A week before your arrival we send you an email asking you of your expected time of arrival.
Once guests reach the site, there is a sign to reception and a bell by which to alert us of your arrival. The lodge nearest to the notice board is Alder, followed by Buzzard, Chiffchaff, Dunnock, Egret, Fieldfare, Gadwall and Heron.
On arrival, guests are greeted personally and given a full tour of the lodge and its facilities with an opportunity to ask for more detail, if the matter is not covered specifically in this access statement.
There is a dedicated car parking near each lodge with room for unloading and manoeuvring. We'd be happy to assist in unloading.
The car park is flat and level and there is a wooden diflucan online canada ramp to each lodge. There is continuous rail to the entrance of each lodge. There is no covered walkway.
The main entrance from the car park leads into the hallway or kitchen area.
All lodges have level thresholds throughout including access to the deck from the lounge. The deck is next to the Lough with fabulous views across the lake.
All lodges except Alder are on a single level. Alder has an accessible bedroom downstairs and a further bedroom upstairs.
GENERAL INFORMATION ABOUT OUR LODGES
Access statement for the Tranquil Otter five star lodge. Each lodge has:
Doors that are at least 76cm wide
A single key for external doors; which can be opened from inside lodge without a key
Wetroom with wheelchair accessible shower
Spacious open plan dining and lounge area with patio doors opening out onto the deck
Gated lakeside deck with table and chairs and lounger
Hot tub sunk into deck
Internet access
Bath/shower seat is available on request
Toilet seat raiser and frame combined is available on request
Mobility scooter is available during your stay
PUBLIC AREAS – GENERAL (INTERNAL)
All lodges, except Alder, are single storey and made of wood with wooden floorboards.
Alder has an accessible bedroom and bathroom downstairs.
The entrance to each lodge has a doormat.
There is someone on site between 9 am and 6 pm Monday and Friday.
There is someone available by email 9 am to 4 pm on other days except Sunday.
Each lodge has a folder that provides details of how to access help and further information during guests' stay.
The telephone reception at the site is generally poor.
Well behaved dogs are welcome in the lodges by prior arrangement.
PUBLIC AREAS – WC
There are no public WC facilities.
RESTAURANT / DINING ROOM, BAR & LOUNGES, TAKE AWAY & CAFE
All units have a folder that provides information on restaurants; take away providers and local cafes.
LAUNDRY
There a laundry service available, details are provided in the Guest handbook.
SHOP
There is a local butcher/shop two miles away in Great Orton and a Cranston's five miles away. Details of supermarkets are provided in the Guest handbook.
TREATMENT ROOM
Health & Beauty treatments are available in-lodge. Details of this service are provided in the pre-arrival letter.
LEISURE FACILITIES
There is a private swimming pool available for hire two miles away in Longburgh; details are available in the Guest handbook.
Guests can hire bicycles from a local company, the bicycles can be booked online – we recommend booking ahead of your arrival.
Each lodge has a boat for guests' private use. There is an opportunity to learn to fly-fish, shoot, swim and have guided tours locally.
OUTDOOR FACILITIES
The Tranquil Otter is a nature reserve and site of special scientific interest. Guests can walk around the site (one-mile perimeter walk). There are opportunities to stop by the weir, kingfisher viewing point and at the bird hide. Guests who have limited mobility can, and frequently do, make use of the mobility buggy available for their use.
CONFERENCE & MEETING ROOMS, BANQUETING, CLUBS, ENTERTAINMENT
Not Available
BEDROOMS
Not Available
ADDITIONAL INFORMATION
All units are No Smoking. Smoking is permitted on the external decks.
We welcome a maximum of two well behaved medium size dogs by prior arrangement.
There are two exits from each lodge, through the main door to the car parking area or through the French doors in the lounge to the picnic area.
CONTACT INFORMATION
Telephone Number: 01228 576661 and e-mail: info@thetranquilotter.co.uk