Frequently Asked Questions
We have listed the most FAQs that our guests have when planning their stay.  Please do take a look at the FAQs and our responses.  Need more detail? Please email us and let us know how best to get back to you.
The FAQs are organised by broad category in each tab. Need help? Please email or call us.
All bookings are on our standards terms of occupancy, please do read these as these will answer most queries regarding your booking.
General FAQs
This tab lists questions relating to arrival, departure, paying for extra good or services and FAQs relating to the nearest supermarket.
What is there to do on-site?
The Tranquil Otter is an unspoilt rural site with a lake (Lough) and woods in their natural state. The site is accessed by a single track with eight lodges on the south bank of the Lough, each self-catering lodge overlooks the lake, has its own boat, has a high-speed connection to the internet, a private deck with sunken hot-tub. Egret and Heron lodges have a sauna too. Other facilities can be in local villages or in Carlisle (5 miles away).
We do not drive so was wondering if there was a way of getting to your park via public transport?
The Tranquil Otter is in the village of Thurstonfield on the Solway Plain, a rural setting. The nearest public transport point is Carlisle, with regular direct services to London, Manchester, Birmingham, Glasgow and Newcastle. Taxis can be taken from the rank or pre-booked. Once here, travel is either on foot or bicycles can be pre-booked from Border City Cycle Hire. Bicycles are delivered to your lodge, there is a delivery charge for this service.
What are the check-in and departure times?
A pre-arrival email (sent to the email address used for the booking) provides guests with details of arrival and departure times. See "Booking" tab for more information.
How do I check-in?
We have changed the way we work. Guests are sent keycode to access the lodge. The keycode is programmed with the arrival time confirmed on your booking. If you think that you might arrive earlier than the time on your booking you will need to let us know ahead of your arrival as you will not be able to access the lodge until the keycode becomes activated on the lock. This is particularly important if you plan to arrive after 6 pm.
Please note: the path beyond the lodges and over a small bridge is suitable only for tractors and heavy-duty vehicles and a couple of our adventurous first-time guest have needed to be towed out.
Will I have to pay for extras?
Two of the lodges at the Tranquil Otter have saunas, these are coin operated and guests will need to pay to use the sauna. Everything else is included for guests to enjoy a self-catering short break and holiday.
Guests may choose from a list of extras, which we purchase from selected local suppliers. Optional extras do need to be booked ahead of your stay.

Where is the nearest shop/supermarket?
The nearest shop is in Great Orton, R&J Mulholland – a traditional family butcher with a passion for quality. Shop for locally sourced meats, cold meats, Cumberland sausage, quiche, pies and some convenience store items.
Cranston's Farm Shop with a wide range of meats cuts, prepared meat (ready to put into the oven), pies, game and a deli selection. Also stock fruit, veg, olives, oils, cakes and beer.
A selection of supermarkets is within five-mile radius, with Asda and Morrisons near J44 of M6, Sainsbury's in the centre of Carlisle and Teso's at J43.
Booking related FAQs
This tab sets out FAQs and responses related to the length of stay, check in and departure times, moving a booking, cancelling a booking and the security deposit.
Can we stay for one night?
This is one of the most FAQs.  Guests can stay a minimum of two nights at the Tranquil Otter. We can do one night, if we have last-minute availability and within seven days of arrival.
School holidays short breaks
Short break choices during school holidays are:
Friday Arrival – 3 nights or 7 nights
Monday Arrival – 4 nights or 7 nights.
Christmas and New Year
Christmas and New Year break choices are:
20th December – 3 or 7 nights.
27th December – 3 nights or 7 nights
30th December – 4 nights
What are the check-in and departure times?
Check-in
Guests can check-in between 4 pm and 6 pm.  We send you an email a few days before your arrival. Please read this as it has important information about checking in.
Not sure how long it might take by car? Google maps is a pretty good indicator of travel times, use this handy "Get Directions" tool on here. Add your postcode and the map will provide an indication of distance and time.
If you do arrive earlier than planned, we recommend the Drovers Rest in Monkhill (CA5 6DB) or The Cafe at Orton Grange (CA5 6LA).
Early check
Guests can choose an earlier check-in of 2 pm, this is subject to availability and can be selected when booking online. There is a charge for this service.
Late Check-in
Guests can arrive later than 6 pm.  Please advise us ahead of your arrival so that we can discuss arrangements with you.
Guests may not check-in later than 9 pm.
Departure Time
Departure is between 9 am and 10 am. Please let us know if you plan to depart before 9 am.
Sunday Departure
The standard departure time for Sunday is 11 am. If you wish to extend your Sunday stay, please request a later departure. Additional charges apply.
Can I move my booking?
A guest with a booking that is more than six weeks away may swap the booking for a holiday of similar or greater length for a fee of £150, if the booking to be moved is more than 12 weeks away, the fee will be reduced to £30.
What happens if I cancel my booking?
We strongly recommend that guests take out cancellation insurance, either with their own bank or with Booking Protect. There is an option to add insurance when booking online.
Please see details of our Cancellation Policy, this can be found in the footer of each page of our website.
Security Deposit
We require a security deposit of £150 (Lough House is £300) against any requirement for more than the normal cleaning or damage to the lodge, its contents and equipment or to the site. This is payable with the balance or before arrival. We release the security deposit, less any charges promptly after departure.
Hot Tub FAQs
Every lodge has a hot tub for you to use during your stay. We want you to relax and have fun, but here are a few FAQs that we think are worth sharing to help keep you safe.
Are there any Do's and Don'ts when using the hot tub?
Hot Tubs are great fun to use, but they are serious pieces of equipment that need to be used properly. For your safety and enjoyment, please read these FAQs relating to do's and don'ts before using your hot tub.
Things to do before using the hot tub
Do take a shower and remove all body lotions and oils before using the hot tub. Lotions and oils can damage the filters and could mean we have to shut down your hot tub while the water quality is tested.
Do remove all jewellery and tie back long hair to ensure nothing gets tangled. Also please note that silver jewellery can discolour due to the bromine used to maintain the water quality.
Do limit your hot tub usage to 30 minutes continuous use at a time. This is a health & safety recommendation.
Please don't do any of the following when using the hot tub
Do not add any detergents, foaming agents or essential oils such as bubble bath, shower gel or shampoo. This can damage the filters and will make the hot tub unusable.
Do not submerge your head in the hot tub.
Do not use the hot tub if you have had a large meal within the last hour of after the consumption of alcohol.
Do not use the hot tub if you have had a tummy bug with diarrhea or vomiting within the past 14 days.
Do not eat in the hot tub. Food fragments and crumbs can clog the filters making the tub unusable.
Do not swallow the hot tub water.
Do not allow babies to use the hot tub. The heat of the water can be dangerous for babies and in some cases fatal.
Do not allow children aged four or under to use the hot tub. Children aged five or over may use the hot-tub with adult supervision.
Do not use any electrical equipment near the hot tub.
Do not use glass containers (glass or bottles) when using the hot tub.
Do not jump or dive into the hot tub.
Can we eat and drink while using the hot tub?
No food to be consumed in the hot tub. Food particles can clog the filters and make the hot tub unusable. Any drinks should only be consumed from a plastic container.
Can I use the hot tub if I am pregnant?
We strongly advise all pregnant women to consult their GP before using a hot tub.
Can I use the hot tub if I am taking medication for high blood pressure, diabetes, heart disease or other chronic conditions?
We strongly advise anyone on medication to consult their GP before using the hot tub.
Are children allowed in the hot tub?
Babies are not permitted in the hot tub under any circumstances. The high temperature of the water is too much for tiny bodies, and is very dangerous.
Children four and under four years of age are not permitted in the tub. Children five years or older need to use the hot-tub with adult supervision. Children or others who cannot keep their faces out of water should not use the hot-tub.
Is the hot tub private, will I be overlooked?
You can be sure of being able to enjoy the hot tub in private.
All lodges are set along the access lane to the site and benefit from natural screening. Most guests, once inside the lodge and on the deck, are not aware of guests in other lodges.
Are there any restrictions on using the hot tub at night?
Please keep noise to a minimum and not use the hottub after 23:00
Does the hot-tub need to be switched off after use?
The hot tub stays on all the time. There is a control panel on the side of the tub, this engages the pump(s), sets the maximum temperature and the light. We recommend that you turn off the pumps and leave the tub on. We can explain all this to you when showing you how to use the hot tub.
How do you maintain your hot tubs?
We use Bromine to maintain the water quality in our hot tubs.
What is the floating device in the hot tub?
The floating device in the tub that contains bromine tablets which dissolve slowly over time. Please don't throw this out of the hottub, there is a charge for damaging this device.
Site Related FAQs
This tab sets out FAQ related to things that are onsite, distance of nearest shops, walking round the Lough and getting a taxi.
Can I fish on the lake?
The Tranquil Otter is not run as a fishery.
There are a couple of fisheries locally and places where one can fish on the local rivers, http://www.lakedistrictfishing.net/where-to-fish/where-to-fish.html is a good place to take a look, our postcode is CA5 6HB.
The local coarse fishery is Crofton Lake, CA5 6PX.   Day permits are available from either Geoff Wilson Sporting Guns and Fishing Tackle in 36 Portland Place, Carlisle, CA1 1RL, 01228 531542 or from Eddies Tackle in 70 Shaddongate, Carlisle, CA2 5UG, 01228-810744.
Fly fishing is available at New Mills Trout Fishery and Fish Farmhttp://www.newmillstroutfarm.net/ contact James on 01697 741115 or info@newmillstroutfarm.net for more details.
Can we walk around the lake?
There is a circular walk around the Lough, which differs depending on the time of day. As you can see the lodges are all on one section of the site – with the rest of site being woodlands.

Is there mobile reception on site?
Mobile reception is very poor. We do have wifi in each lodge enabling you to use apps such as WhatsApp and Messenger to make audio calls.
Where is the nearest shop to the Tranquil Otter?
Nearest Shop – 2 miles
The nearest shop is R&J Mulholland at Great Orton, great meat and a small shop – bread, milk and supplies as well as the best Cumberland Sausage you'll get for miles, one of the FAQs worth noting.
Nearest Shop – 4 miles
The next shop is Cranstons at Orton Grange. Through Great Orton and straight through until you get to the A595.
Nearest Supermarket – 5 miles
The nearest supermarket is Sainsbury in Carlisle, the Asda and Morrisons is about the same heading towards Junction 44 of the M6. There is a Tescos at Juntion 43 of the M6.
Can I get a taxi off the site?
There are a number of taxi companies that will come out from Carlisle to pick you up.  The numbers are up on the notice board by the main entrance.  Please note that you may need to book the taxi in advance at popular times.
FAQs related to the Lodge
Have a questions about the lodge and what's included? Have a look at the FAQs on this tab.
What's included in the Lodge?
One of the FAQs worth reading. Your lodge includes:
Bed linen – your beds will be made ready for you.
Towels (1 large bath towel & 1 hand towel per person) – extras can be ordered in advance only – we don't hold stocks on site.
Towelling robe per adult
Hand soap from Pure Lakes
Tea towel and hand towel
Oven gloves
Dish-cloth and scourer
Washing up liquid
Dishwasher tablets
Small supply of tea, filter coffee, sugar, a couple of Tassimo pods
Pint of milk delivered by the milkman on the day of arrival
Basket of logs, kindling, firelighter and matches (additional logs may be bought on site).
Matches
All cooking utensils, pots and pans.
If you are planning to connect your laptop to the TV then you'll need to pack an HDMI cable.
Which lodge has a sauna?
Egret and Heron Lodge have a coin operated sauna off the main bathroom. The sauna operates using £1 coins or tokens. A minimum session is £3 and includes an hour to heat up the sauna and 30-minute sauna session.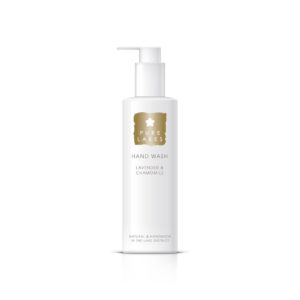 What's in the bathroom?
We provide bath sheet, Handtowel and towelling robe for each guest. In the bathroom you'll find:
Lavender and Chamomile shower gel
Lavender and Chamomile hand wash
Bathmat
Non-slip mat.
The Pure Lakes Lavender & Chamomile products are gentle on skin and infused with a calming blend of Lavender and Chamomile essential oils.  Our choice of natural liquid soap is particularly good for sensitive or dry skin.  Please leave the bottles in the lodge for the next guest. We do a small selection to buy on site, or buy direct from Pure Lakes website.
What's in the Kitchen?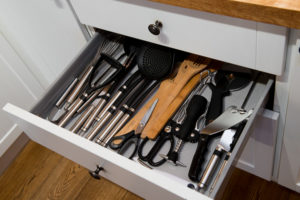 Love cooking, this is one of the FAQs for you. Each lodge has a fully fitted kitchen with:
Single oven
Gas hob
Microwave
Fridge freezer
Dishwasher
Tassimo coffee machine
Dualitt Toaster
Kettle
Stainless steel pots and pans, 3 different sized sauce pans and milk pan as well as casseroles
See Utensil drawer
Is there an iron in the Lodge?
Each lodge has an iron and an ironing board.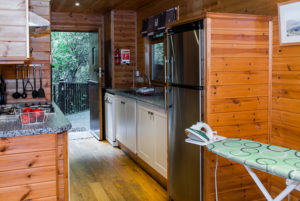 Is there a hairdryer in the Lodge?
FAQs asked by ladies mostly.  Each lodge has at least one hairdryer.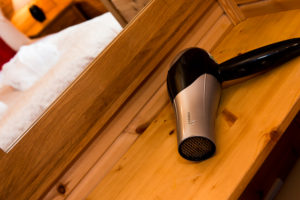 FAQs about pets
This section answers some of the questions relating to pets at the Tranquil Otter, mainly dogs and also questions we get asked about Leah.
Well-Behaved Dogs are welcome by prior arrangement
It is easy to bring your pet on holiday with you at the Tranquil Otter. We welcome well-behaved dogs. We've found the following basic rules enable us to meet the needs of guests accompanied by their dog as well as guests without pets.
Please note rules that enable us to welcome dogs:
The owners are fully responsible for anything done by their pet.
Pets are not to be left unattended – if you plan to leave your pet in the lodge in a cage, please let us know.
Pets are not to go into bedrooms or on beds or chairs under any circumstances, nor may they be dried with, or sleep on, any of the linen or furnishings provided. We can provide towels.
Pets should have their own beds or blankets to sleep on. Please bring these with you.
Pets are to be cleaned and, if wet, towelled dry before entering lodges.
Pets are not to be allowed to foul the Lodge, decking, roads, paths or lawns of the site. In the event of a pet fouling any of these areas the owner must immediately clean it up and dispose of the fouling in the dustbins provided.
Pets must not be allowed to disturb others Guests (for example, by excessive barking)or wild-life (by chasing ducks or swans) and are to be under control at all times. We understand that many of our guests are able to keep pets under control without a lead and that is fine. We ask that your dog is kept on lead around the lodges and near the Lough House.
There is a fixed charge of £40 per dog per short break.
Can you tell us a bit about Leah?
Many of our guests have asked us to provide information about Leah.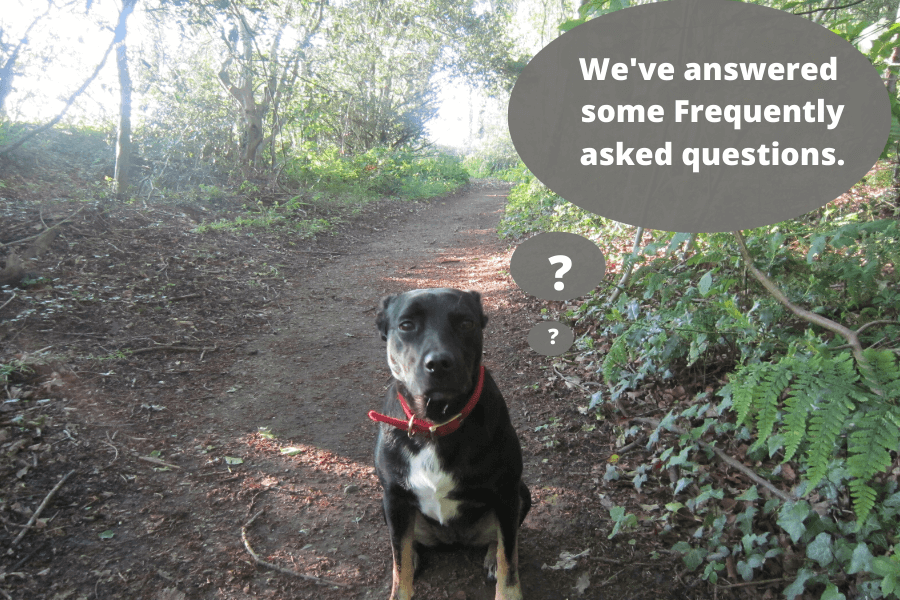 What kind of dog is Leah?
She is mostly Collie and we have often wondered about her heritage. Looking at her colouring we think that there may have been a bit of Rottweiler or Alsatian, based on her intelligence we think mostly Collie.
How old is she?
We don't know the exact date of birth, Leah became part of our family in May 2008 and was a month old, so that would make her 11 nearly 12. She is ageing well?  don't you think?
Can she come for a walk?
Yes, Leah would love to take you around her woods?
Can we feed Leah?
Please do not feed Leah. You may stroke her, take her round the woods, but please do not feed her. If you'd like to give her treats, please let us have them and we will incorporate them into her diet. Leah has become ill in the past from having too much to eat.
Can we invite Leah into the lodge?
Leah is not allowed to visit guests in their lodge. She's happiest taking people for a walk.
What shall we do if Leah looks lost?
Leah is at home and does not get lost, she has a range of faces, including "Feed me", "Cuddle me" and "Let me in".
Is she friendly?
Leah is a very friendly dog in most circumstances. We have never tested the limits of her patience.
FAQs about Log burners
Does each lodge have a log burner?
Each lodge comes complete with a log burner. The Lough House has a log burner too.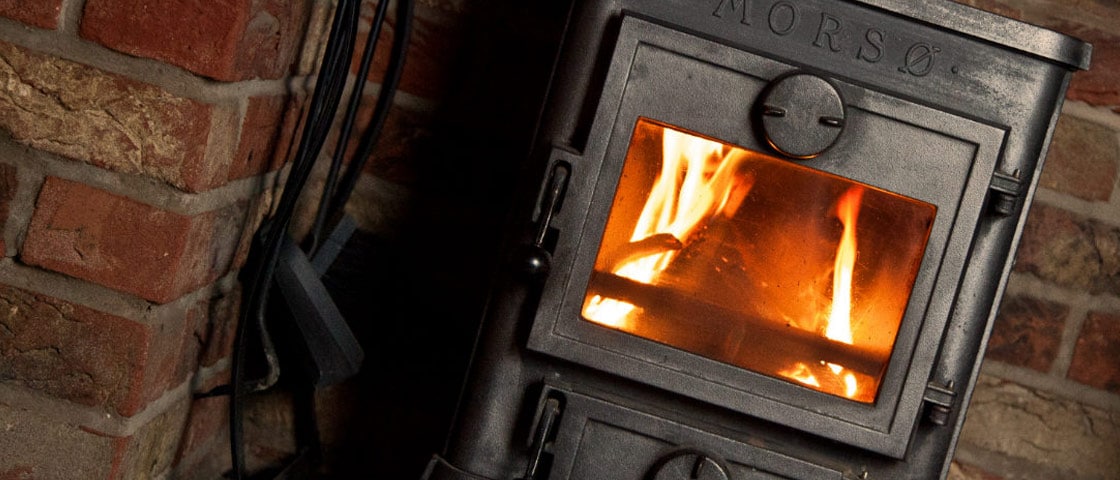 Do you provide instructions on how to use the log burner?
The in-lodge guest handbook provides details on how to use the log burner.
Are logs provided?
Your lodge comes complete with a basket of logs, kindling, firelighters, and matches. Additional logs may be pre-ordered.
Wifi
Please do read this section of FAQs about connecting to the wifi at the Tranquil Otter.
Do you supply free wifi?
Each lodge at the Tranquil Otter has a fibre connection. Access to the wifi is via a sign-up page.
Will I be able to connect my devices to the wifi?
Please let our wifi provider Wireless Social know if you plan to bring a game console or device that does not have signup page. Wireless Social will need to whitelist your device before it can connect to the wifi. This is best done ahead of your arrival and to whitelist your device we to need to get the device's mac address from you. Please email your MAC address to wireless social at support@wireless-social.com.  The subject heading must be "The Tranquil Otter" so they know where you wish to connect from.  The connection request is usually only done during office hours.  Examples of devices for which we've recently sent requests include, but are not limited to:
Amazon Echo
Google Chromecast
Apple TV
Playstation.
What is a MAC address?
A Media Access Control (MAC) address is a unique numeric identifier used to distinguish a device from others on a network. The address is assigned by the manufacturer. To find the mac address for your particular device follow this link and select your device from the list for a quick guide.
Boat related FAQs
Each lodge and the Lough House come complete with a flat bottomed boat.
Are the boats easy to use?
Each Lodge comes with a flat-bottomed boat that you can use on the lake.  Being flat bottomed makes the boat stable. The boat is made of fibre glass and the sides are designed to take minimum pressure.  If you are unsure of how to use the boat, please ask.

Are the boats kept undercover?
The boats are moored and are open to the elements and available to waterfowl. We clean the boat on the day of arrival and provide a baler and a cloth for your use.
How do I use a Gift Voucher Code?
To redeem your voucher, book your stay from our "Book Now" page.
Select your dates and complete the booking form. You will have the option to add your voucher code on this form.
The following terms and conditions apply to all gift vouchers and voucher codes:
The Gift Voucher must be presented during the booking process.
The Gift Voucher may be used as full or part payment for any length of stay at the Tranquil Otter.
The Gift Voucher may be used to make any booking within dates issue with the voucher.
The Gift Voucher may not be redeemed for cash or to buy another gift voucher.
Gift vouchers may not be combined with other promotional offers.
The Tranquil Otter's standard terms of occupancy apply to all bookings Tranquil Otter Terms of Occupancy.