Frequently Asked Questions
Honoured Guest,
Here are our answers to the questions we are asked most frequently. You can go through them all below or you can ask our chatbot by pressing the chat button at the bottom of the page. If you have any questions not covered here, don't hesitate to call us on 01228 576661 or email us at info@thetranquilotter.co.uk.
Yours

What is The Tranquil Otter?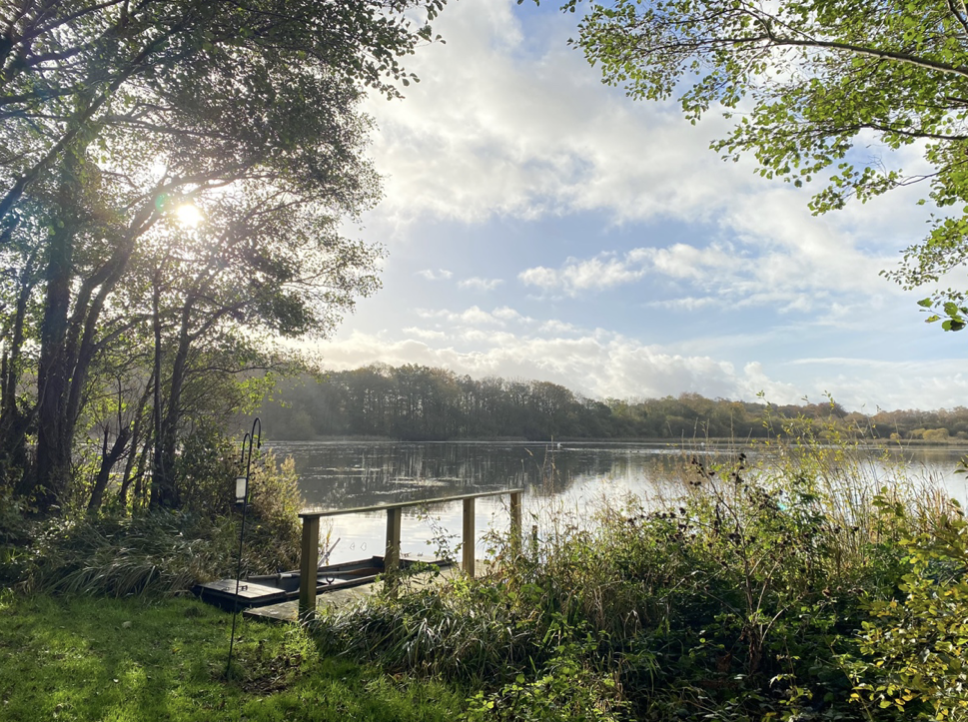 The Tranquil Otter is an unspoilt rural site with a lake ("The Lough"), eight south-facing lodges on the North-East bank of the Lough and woodlands only lightly managed, primarily in the interest of natural diversity. The site is accessible by a private road off the B5307. Each self-catering lodge has a picture window and private deck overlooking the lake, its own boat, a high-speed Internet connection and a hot tub. Egret and Heron lodges have saunas, too.
What's special about The Tranquil Otter?
First, it's our family home where we live, have brought up our children and now welcome them, their children and our friends and wider families.  So, we care about the place.
Second, it's a nature reserve, a Site of Special Scientific Interest (SSSI), where we care on behalf of the Nation for a rare "hydrosphere", meaning an integrated natural environment of woodlands, lake and wildlife, undisturbed by construction, forestry or agriculture for over a hundred years.  It is home to many rare and unusual species of plant and insect.
Third, it's a collection of eight comfortable, eco-friendly lodges that have welcomed over more than thirty years a small number of guests who come to be restored in comfort by the peaceful beauty of the place.
What's all this about peace and quiet?
(There's a clue in the name, "Tranquil"!)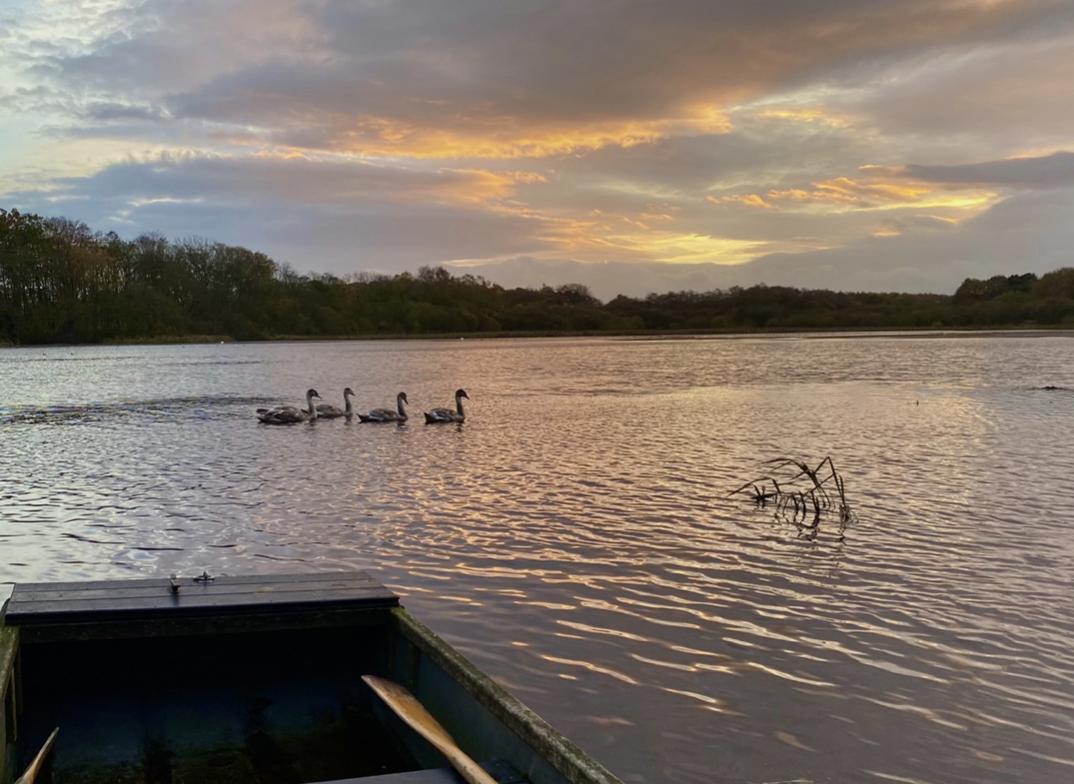 The varied wildlife that lives in and around the Lough is here because of the peace and quiet – and so are our guests. Most of our guests like to keep themselves to themselves and spend their time reading, enjoying the hot tub, boating and immersing themselves in the peaceful surroundings.
At The Tranquil Otter, the birds, bats and insects may chirrup, squeak and buzz, the deer and distant cattle may call but human noise is quite different. Our terms of occupancy make clear what our other guests and we expect from you:
"It is of the essence of the contract between the Guest and the Company that Guest's lodge is to be occupied, and the site enjoyed, in such a way that the occupants cause no nuisance, disturbance or annoyance to other guests or to the Owners. To illustrate and without prejudice to the generality of the foregoing, things that the Guest undertakes not do or permit to be done include, but are not limited to, playing any form of musical instrument or electronic device in such a way as to be audible outside the Guest's own lodge, shouting, whistling, or singing indoors or out or revving engines or motors. No fireworks of any kind, or drones, may ever be brought onto, or used anywhere on the site."
The overwhelming majority of our guests who understand and appreciate the special gift of tranquillity offered by The Tranquil Otter can be reassured that it is very rare that we have had to insist on this condition, but that we shall always do so if the need arises.
What is there to do near The Tranquil Otter?
Our woodlands and the lake, a National Nature Reserve, are a treasure to be explored. There are many fine country walks in the area and three pubs, serving food on most days, within walking distance of The Tranquil Otter. Hadrian's Wall passes just over a mile away and the famous sites of Birdoswald, Vindolanda and Housesteads are no more than forty minutes' drive away. The substantial provincial centre of Carlisle is just 5 miles away, with many shops, large and small, open and covered markets, the historic castle, a cinema, two museums, many pubs, bars and restaurants. Of course, The Lake District National Park is just forty minutes' drive away.
FAQs About Getting to The Tranquil Otter, Arriving And Leaving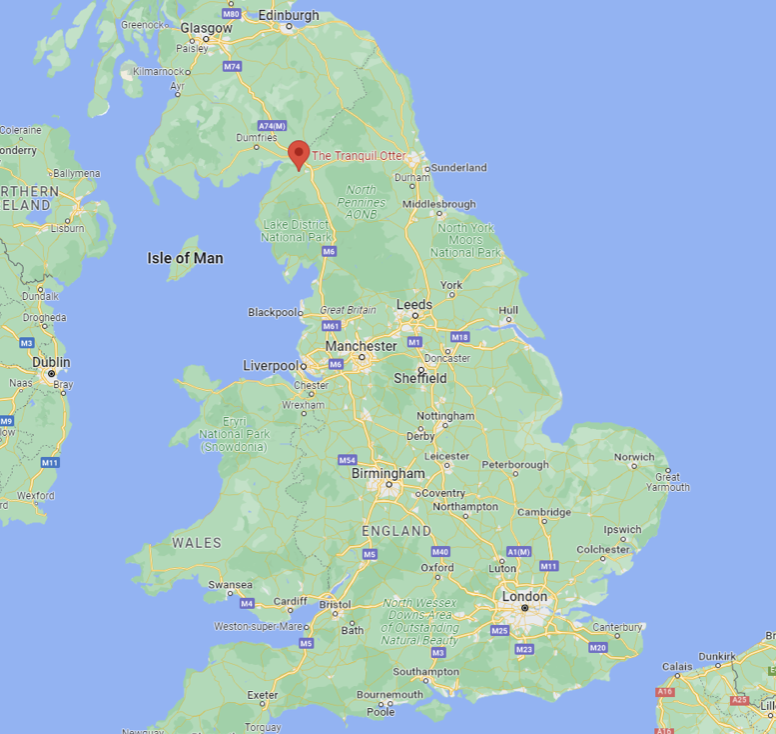 Where are you?
The Tranquil Otter, Thurstonfield, CARLISLE, CA5 6HB 
Driving here?
With a map, grid reference:

 

NY 320563, on the B5307 road 5 miles West of Carlisle.
Using satnav, put in the grid reference above or our post code, CA5 6HB.

 

Verbal directions, from the South or North, exit the M6 at Junction 44 and take A689 towards Workington. At the Moorhouse Roundabout take B5307 towards Kirkbride.

 

Follow for this road for about three miles; you will pass through Moorhouse Village.
The Last Mile: Half a mile after Moorhouse pass Bramblebeck  Farm on your right, then Cumberland Bird of Prey Centre & Bramblebeck Park on the left.  Indicate left as you pass the "Thurstonfield" village sign on your left.  Turn into the first drive you come to on the left, signed "The Tranquil Otter", with white stones on either side. If you pass the 30-mph speed limit sign, you have gone 50 yards too far.  Go straight up the lane to a 90-degree left turn. From here, you can locate your lodge.  They are in alphabetical order on your right beginning with Alder which you should see directly in front of you.
How far is The Tranquil Otter from me by road?
Google maps is a pretty good indicator of travel times. Use this handy "Get Directions" tool . Add your postcode and the map will provide an indication of distance and time.
What if I'm not driving? 🚶‍
The nearest public transport hub is Carlisle, five miles away, with regular direct rail and coach services to London, Manchester, Birmingham, Glasgow, and Newcastle. Once here, travel is either on foot or by bicycle delivered to your lodge available pre-booked from Border City Cycle Hire https://www.bordercitycyclehire.com/
Are there taxis? 🚕
There are taxis to and from Carlisle.  You will need to let them know which lodge you are in and book in advance at popular times.  
Barry's Taxi – 07766 700020
Metro Taxi – 01228 522088
Radio Taxis – 01228 527575
AAA Taxis Carlisle – 01228 808777
Carlisle Taxi Hire – 01228 424242
Is there a bus? 🚌
We are on the Carlisle – Silloth bus route wit one bus a day in each direction. Timing changes with the seasons and school term times. See www.stagecoachbus.com/timetables.
Booking FAQs
Why two deposits, Booking Deposit and Security Deposit?
Upon booking we require a £150, non-refundable, booking deposit so the booking is firm. If the booking is more than 6 weeks away this will be required right away. If the booking is less than 6 weeks, the whole charge and security deposit will be due right away. 
We also require a refundable security deposit of £150, payable before arrival against any requirement for more than the normal cleaning following your stay or damage to the lodge, the site, its contents or equipment. In the absence of any such requirement, we release the security deposit promptly after departure.
If we find any damage beyond normal wear and tear, we will advise you of it and, as soon as we know, of the cost and timing repair or replacement.  We then promptly release the security deposit, less any deductions and confirm this by email. 
Money should be in your account within 3 working days of release by us. If this is not the case, please contact us.
Can we move our booking?
A guest with a booking that is more than six weeks away may swap the booking for a holiday of similar or greater length for a fee of £150.  If the booking to be moved is more than 12 weeks away, the fee will be reduced to £30. Please contact the office on 01228 576661 or info@thetranquilotter.co.uk for further information.
What happens if I am obliged to cancel my booking for any reason?
Bookings at The Tranquil Otter are firm.  We offer Cancellation Cover as an extra at the time of booking and we strongly recommend it.  Otherwise, Tranquil Otter bookings are non-refundable.  Cancellation Cover may be taken the time of booking, not afterwards. The details of our Cancellation Cover can be found here https://www.thetranquilotter.co.uk/cancellation-cover/.
Can we extend our stay?
Don't want to leave? If your lodge Is available, you are welcome to extend your stay. Please contact the office directly on 01228 576661 or email in-stay@thetranquilotter.co.uk. We will then give you a price per night.
Can we stay for just one night?
The minimum stay at the Tranquil Otter is normally two nights. Short notice single night bookings are sometimes possible at not less than two days' notice and subject to availability of a lodge and staff to service it.
FAQs related to the Lodge
How do we check in?
Go straight to your lodge.  Here's a map of the site:

Look for the sign at knee-height with the name of your lodge.
PLEASE NOTE:  Don't follow the muddy track beyond the small bridge over a stream.  This is suitable only for tractors and heavy-duty vehicles. A couple of over-adventurous first-time guests have had to be towed out!
When can we check-in and when must we check-out?
We send you an email a few days before your arrival. Please read this as it has important information about checking in. Check in is usually any time from 4 p.m. Please let us know if you expect to check in after 9 p.m. Departure is by 10 a.m.  (Sundays 11 a.m.). Earlier and later departure times can usually be arranged with a member of our team as a chargeable extra.   Contact us on info@thetranquilotter.co.uk or call 01228 576661. 
Remember our tranquillity policy at all times but especially when coming or going in the evening and at night. 
Note: If you do arrive earlier than planned and need somewhere pleasant to pass the time, we recommend the Drovers' Rest in Monkhill (CA5 6DB) which is open from 5pm on Monday and Tuesday and 12pm Wednesday- Sunday or The Cafe at Orton Grange (CA5 6LA) which is open 9am-5pm Monday -Saturday. 
Sunday Departure?
The standard departure time on Sundays is 11 am. If you wish to extend your Sunday stay, please request a later departure. Additional charges apply. See "Booking" tab here for more information.
What's included in the Lodge?
Your lodge includes:
Bed linen – your beds will be made ready for you.
Towels (1 large bath towel & 1 hand towel per person)
Towelling robe per adult
Hand soap from Pure Lakes
Tea towel (you can take this home with you) and hand towel. Note: Extra linen can be ordered in advance only – we don't hold stock on site.
Oven gloves
Dishcloth and scourer
Washing up liquid
Dishwasher tablets
Small supply of tea, filter coffee, sugar, a couple of Tassimo pods
Pint of milk.
Basket of logs, kindling, firelighter and matches Note: additional logs must be ordered in advance prior to arrival.
Cooking utensils, pots and pans.
Which lodges have saunas?
Egret and Heron Lodge have saunas off the main bathroom. Instructions on how to use the sauna are sent with your confirmation email or are to be found in mystayplanner. Note: The sauna must be ordered and paid for in advance.
What's in the bathroom?
We provide a bath sheet, a hand towel and a towelling robe for each guest. In the bathroom you'll find:
Lavender and Chamomile shower gel
Lavender and Chamomile hand wash
Bathmat
Non-slip mat.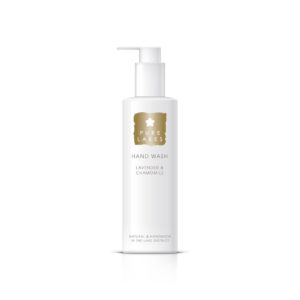 The Pure Lakes Lavender & Chamomileproducts are gentle on skin and infused with a calming blend of Lavender and Chamomile essential oils.  Our choice of natural liquid soap is particularly good for sensitive or dry skin.  Note: Please leave the bottles in the lodge for the next guest. You can order direct from Pure Lakes website.
What's in the Kitchen?
Each lodge has a fully fitted kitchen with:
Single oven
Gas hob
Microwave
Fridge freezer
Dishwasher
Tassimo coffee machine
Dualit Toaster
Kettle
Stainless steel pots and pans, 3 different sized saucepans and milk pan as well as casseroles.
Kitchen utensils – see drawer image.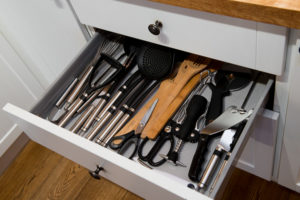 Is there an iron in the Lodge?
Each lodge has an iron and an ironing board.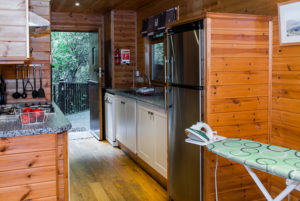 Is there a hairdryer in the Lodge?
Each lodge has at least one hairdryer.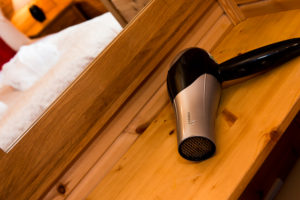 Does each lodge have a log burner?
Each lodge comes complete with a log burner.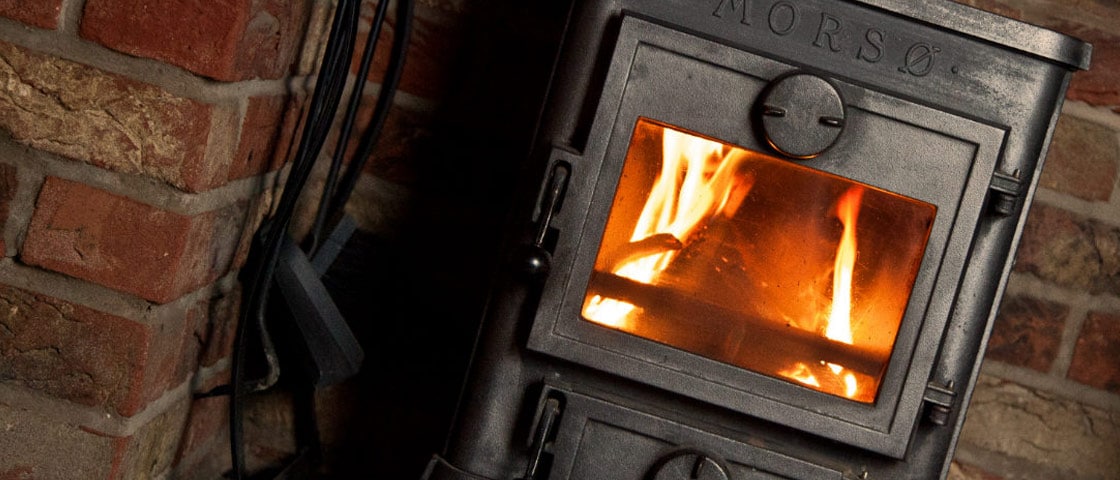 Do you provide instructions on how to use the log burner?
Please log in to mystayplanner to see details on how to use the log burner. 
Are logs provided?
Your lodge comes complete with a supply of logs, kindling, firelighters, and matches. Additional logs may be pre-ordered on mystayplanner.
Extras
Does every lodge have a hot tub?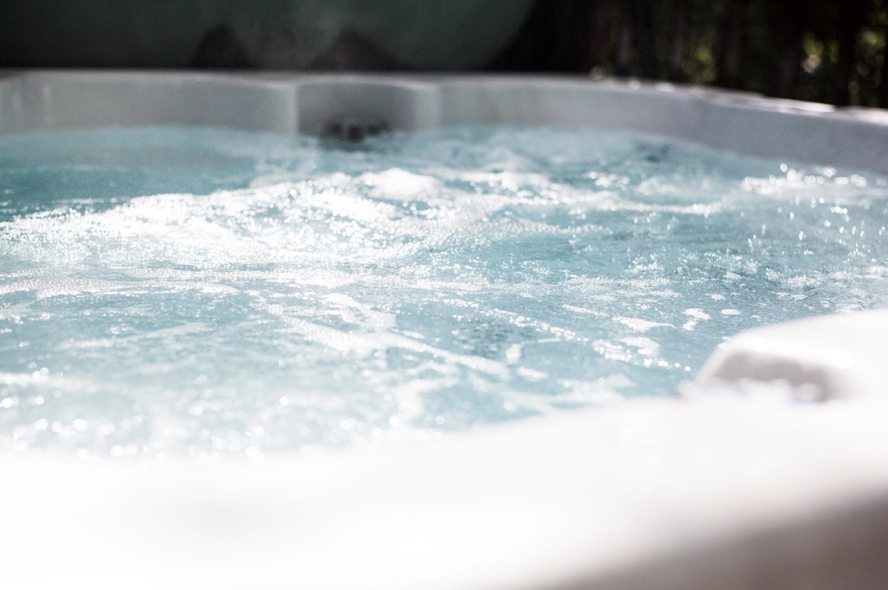 Every lodge has a hot tub which is to be ordered and paid for at least 3 days before arrival so we can get it ready for you.
What about Saunas?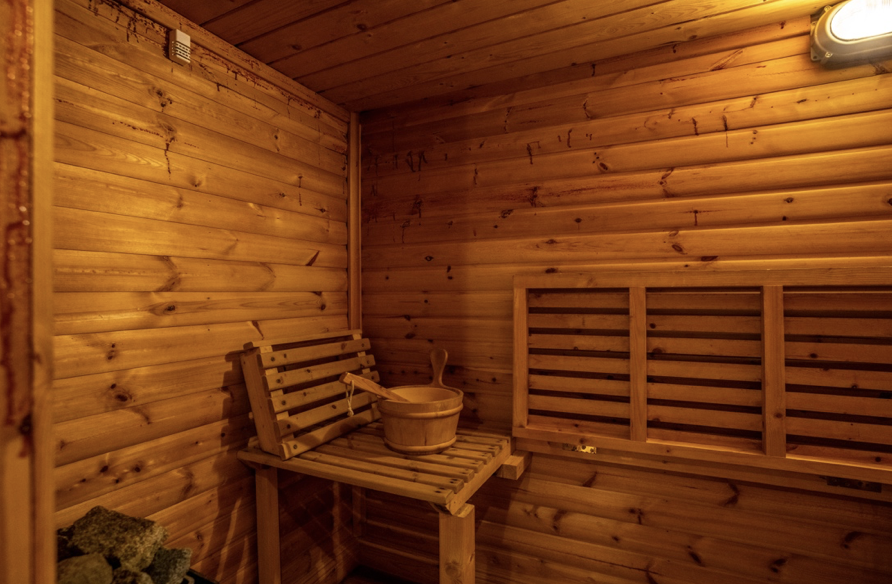 Heron and Egret lodges have saunas which are to be ordered and paid for in advance. This can be added on at the time of booking or on one working days' notice.
How to order other extras?
To find out more about the extras you can order please visit our extras page. It is much best to order all extras well before arrival, but we recognise that unexpected needs can arise. So, we try to help as below:
| Item | When to book |
| --- | --- |
| Additional logs | At time of booking or same day between 9 and 4 on working days, Next day on weekends and holidays |
| Life jackets | At time of booking or same day between 9 and 4 on working days, Next day on weekends and holidays |
| Disposable BBQs | At time of booking or same day between 9 and 4 on working days, Next day on weekends and holidays |
| Bird food | At time of booking or same day between 9 and 4 on working days, Next day on weekends and holidays |
| Highchair | At time of booking or same day between 9 and 4 on working days, Next day on weekends and holidays |
| Shower Stool | At time of booking or same day between 9 and 4 on working days, Next day on weekends and holidays |
| Travel cot | At time of booking or same day between 9 and 4 on working days, Next day on weekends and holidays |
| Mobility Scooter | At time of booking or same day between 9 and 4 on working days, Next day on weekends and holidays |
| Fireguard | At time of booking or same day between 9 and 4 on working days, Next day on weekends and holidays |
| Chocolates | At time of booking or same day between 9 and 4 on working days, Next day on weekends and holidays |
| Balloons | At time of booking or one working days' notice. |
| Flowers | At time of booking or one working days' notice. |
| Welcome pack | At time of booking or on working days' notice. |
| Rose petals | At time of booking or one working days' notice. |
| Afternoon teas | At time of booking or two working days'notice. |
| Christmas Hamper | At time of booking or seven working days'notice. |
Does The Tranquil Otter Grocery offer grocery packs?
We offer a careful selection of quality grocery packs supplied by Mulholland Butchers. There is a regular Welcome Pack, Luxury Welcome Pack and BBQ Pack. 
These can be added on in the Booking Extras section of our website but must be ordered ahead of your stay.
Local Shopping FAQs
Where are the nearest food shops?
The nearest shop is in Great Orton, R&J Mulholland (2.5 miles)– a traditional family butcher with a passion for quality run by Anne and Jimmy Mulholland, farmers as well as butchers. Shop for their own and locally sourced meats, cold meats, Cumberland sausage, quiche, pies, and some convenience store items. They are closed on Mondays. 
Cranston's Farm Shop at Orton Grange (3.5 miles), another top-quality shop, offering a wide range of meats cuts, prepared meat (ready to put into the oven), pies, game, and a deli selection. They also, stock locally sourced fruit, veg, olives, oils, cakes, general groceries, wine, and beer.  In the same premises there are an excellent café, a hairdresser and a swimming pool (must book in advance)!
Within Dobbies Garden Centre also at Orton Grange there is a small Waitrose which is a 3.5-mile drive away. 
What about supermarkets in the area?
There are four supermarkets in Carlisle, each offering directions on its website.  They are, in rough order of proximity:
Sainsbury

 

Aldi x 2
Lidl x2
Morrisons
Asda (M6 J44)
Tesco (M6 J43)
All these except Aldi and Lidl will deliver to The Tranquil Otter.  
Key points:
Book several days in advance to get the time slot you need.
Don't forget to give the name of your lodge.

 

Be sure to be in your lodge to accept delivery or it'll go back to the depot for you to collect the following day.
Site Related FAQs
Can I fish on the lake?
The Tranquil Otter is not a fishery.  There are small fish in the lake, but the otters, herons and occasional visiting osprey catch them before they reach any size. 
Where can we fish nearby?
There are a stretches on the local rivers, where one can fish. www.lakedistrictfishing.net is a good place to take a look, our postcode is CA5 6HB.
The nearest coarse fishery is Crofton Lake, CA5 6PX.   Day permits are available from either Geoff Wilson Sporting Guns and Fishing Tackle in 36 Portland Place, Carlisle, CA1 1RL, 01228 531542 or from Eddies Tackle in 70 Shaddongate, Carlisle, CA2 5UG, 01228-810744.
Fly fishing is available at New Mills Trout Fishery and Fish Farm www.newmillstroutfarm.net contact James on 01697 741115 or info@newmillstroutfarm.net for more details.
Can we walk around the lake?
There is a circular walk around the lake (known as the Lough).  As you can see from the plan below the lodges are all on one section of the site – with the rest of site being lake and woodlands.

Where can we charge our electric vehicle?
At the moment, we don't have any EV charging spots available on our site.   It is not safe to charge a vehicle from the lodge's power supply and, if done, it is expensive for us.  Therefore, we levy a disincentivising charge, currently £30 per connection event.
If you bring an electric vehicle, please charge it at one of several nearby charging stations such as: 
Orton Grange, Orton Road, Carlisle, Carlisle, CA5 6LA – 4 ultra rapid devices and 8 connectors. 10 min drive from us
The Sands Centre, Carlisle, Carlisle, CA1 1JQ – 2 fast devices and 2 connectors. 13 min drive from us.
Dalston Kingsway Car Park, Carlisle, Carlisle, CA5 7PH – 2 fast devices and 2 connectors. 14 min drive from us.
Are the boats easy to use?
Each lodge comes with a flat-bottomed boat that you can use on the lake.  Being flat bottomed makes the boat stable. The boat is made of fibre glass and the sides are designed to take minimum pressure.  If you are unsure of how to use the boat, please ask.  We also have some canoes available on request.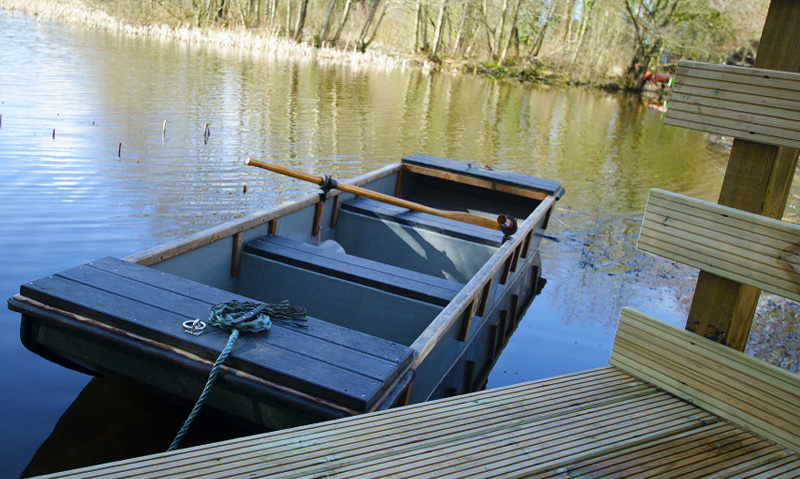 Are the boats kept undercover?
The boats are moored by each lodge and are open to the elements and available to waterfowl. In wet weather they may require baling for which we provide a baler.  We clean the boat on the day of arrival and but they may require little brushing with the brush provided.  
Hot Tub FAQs
What's so special about a hot tub?
Every lodge has a hot tub for you to relax and have fun.  Hot Tubs are a delight; but they are serious pieces of equipment and must be used properly.  Remember a hot tub is not a bath, swimming pool, pub, karaoke bar or picnic table!   Here are a few "Dos and Don'ts" to help keep you and your fellow guests safe, comfortable and … well, tranquil!
What should I do before using the hot tub?
Think – am I pregnant or do I have any relevant allergies or other health problems?
Remove all jewellery and tie back long hair to ensure nothing gets tangled. Also please note that silver jewellery can discolour due to the bromine used to maintain the water quality.
Take a shower and remove all body lotions and oils before using the hot tub. Lotions and oils are not so nice for other people and can damage the filters.

 

Not taking a shower could mean we have to shut down your hot tub, empty It, and then refill it, and re-heat the water which takes at least 24 hours – or even leave It

 

till the water quality is tested which can take up to a week and is expensive … for you, the guest.
Do limit your hot tub usage to 30 minutes continuous use at a time. This is a health & safety recommendation.
What are the no-no's in hot tubs?
For safety's sake, DON'T …
EVER allow a baby or any child under five to use the hot tub. The heat of the water is dangerous for small bodies, occasionally fatal
allow children under 15 to use the hot tub without adult supervision.
use any electrical equipment in, or even near, the hot tub.
use the hot tub if you have had a large meal within the last hour or after the consumption of alcohol.
use glass containers (drinking glasses or bottles) when using the hot tub as they become invisible in water and will cut you if broken.
For the sake of everyone's health, DON'T…
use the hot tub if you have had a tummy bug with diarrhoea or vomiting within the past 14 days.
submerge your head in the hot tub.
swallow the hot tub water.
stay In the tub too long continuously.
For the sake of the hot tub, DON'T …
add detergents, foaming agents, bubble bath, shower gel, shampoo or essential oils.
eat in the hot tub - food fragments and crumbs can clog the filters making the tub unusable.
jump or dive into the hot tub.
Can we drink while using the hot tub?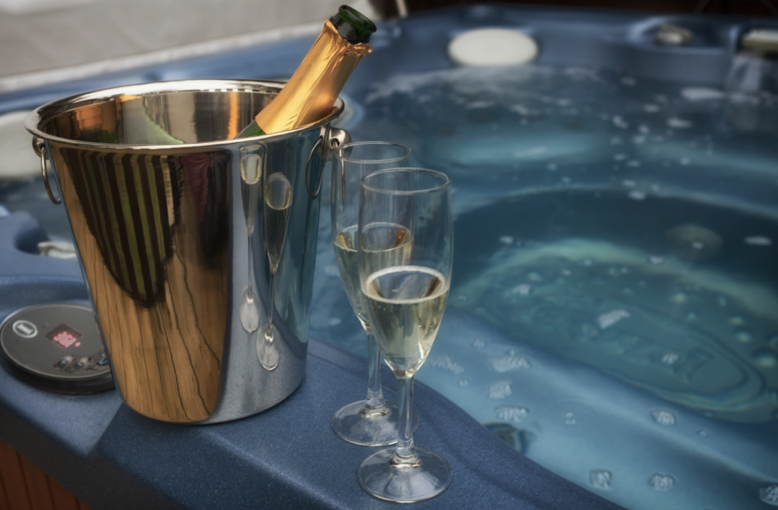 Yes, but be careful with alcohol as the heat will increase the effect.  Be careful also not to get any hot tub water into your glass.  Drink only from the plastic drinking "glasses" supplied with every lodge.  These won't cut you even if broken.
Can I use the hot tub if I am pregnant?
Probably not. Pregnant women should consult their doctor before using a hot tub.
Can I use the hot tub if I am taking medication for high blood pressure, diabetes, heart disease or other chronic conditions?
Probably not. We strongly advise anyone on medication to consult their doctor before using the hot tub.
Are children allowed in the hot tub?
It is very dangerous to put babies or children under five years of age in a hot tub, even briefly. The high temperature of the water is too much for a tiny body with a relatively large surface area.
Children five years or older need to use the hot tub only with adult supervision. Children or others who cannot keep their faces out of water should not use the hot tub.
Is our hot tub private or will we be overlooked?
You will be able to enjoy your hot tub in private.  Every lodge benefits from natural woodland screening and wooden sight screens. The guests of one lodge, whether indoors, on the decking or in the hot tub should be practically unaware of guests of other lodges.
Are there any restrictions on using the hot tub at night?
Please always keep noise to a minimum and especially after sundown.  Do not use the hot tub after 23:00 hrs.
Do we need to switch hot tub on or off?
The hot tub stays on all the time. There is a control panel on the side of the tub, this engages the jet pump(s), sets the maximum temperature and the light. Please turn off the jet pumps when you get out. 
What do we do in a hot tub emergency?
In an emergency involving an electrical or other malfunction of the tub, please;
Operate the emergency stop switch located on the side of the lodge to turn the power off.;
Get any affected person out the water; and then
As appropriate, follow normal first aid procedures including calling 999, rescue breathing and CPR.
How do you maintain your hot tubs?
Daily.  All our hot tubs are tested and dosed with bromine as needed to maintain the water quality every day between 10am-12pm except for your day of departure when we may start earlier.
Weekly.  On Mondays we empty all departing guests' hot tubs, we do this from 9:30am so that we can get them filled and heated up for the next guests' arrival. On Fridays from 10am we shock each departing hot tubs with a special treatment,, and they should not be used for two hours afterwards.
Monthly.  Our hot tubs are sampled tested by external specialists every month.
What is the floating device in the hot tub?
The floating device in the tub is necessary to maintain water quality.  It contains bromine tablets which dissolve slowly over time. Please don't keep this in the hot tub and treat it gently.  This device is expensive, and the cost of any repair will be deducted from your deposit.
 

How do we open the hot tub lid?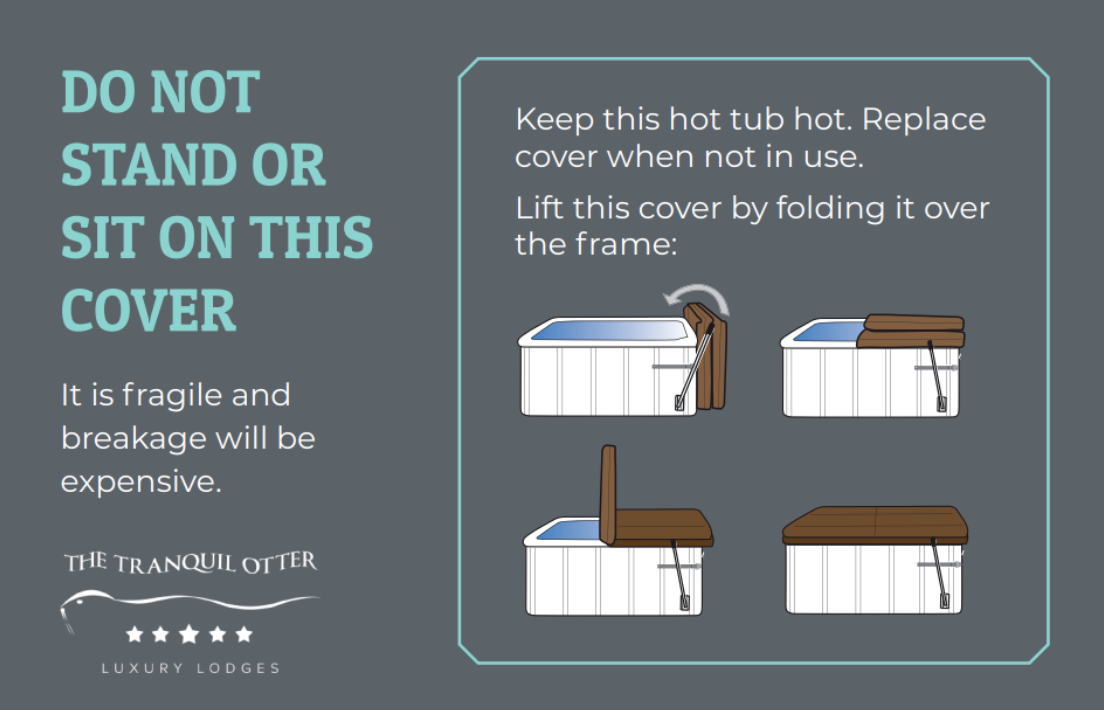 FAQs About Pets
May we bring our dog(s)?
At the Tranquil Otter, we welcome well-behaved dogs (and on application certain other animals) at a small additional charge of £40. We've found the following basic rules enable us to meet the needs of guests accompanied by their dog as well as guests without them.
Please note rules that enable us to welcome dogs:
The owners are fully responsible for anything done by their pet.
Pets are not to go into bedrooms or on beds or chairs under any circumstances, nor may they be dried with, or sleep on, any of the linen or furnishings provided. We can provide special towels for pets.
Pets are not ever to be left alone uncaged in lodges unattended.

 

If you plan to leave your pet in the lodge in a cage, please let us know, in case we need to contact you should the animal disturb other guests.
Pets should have their own beds or blankets to sleep on. Please bring these with you.
Pets are to be cleaned and, if wet, towelled dry before entering lodges.
Pets are not to be allowed to foul the Lodge, decking, roads, paths or lawns of the site. In the event of a pet fouling any of these areas the owner must immediately clean it up and dispose of the fouling in the dustbins provided.
Pets must not be allowed to disturb other guests (for example, by excessive barking) or wild-life (for example, by chasing ducks or swans) and are to be under control at all times. We understand that many of our guests are able to keep pets under control without a lead and that is fine. We ask that your dog is kept on lead around the lodges and near the Lough House.
Does Leah still come to visit?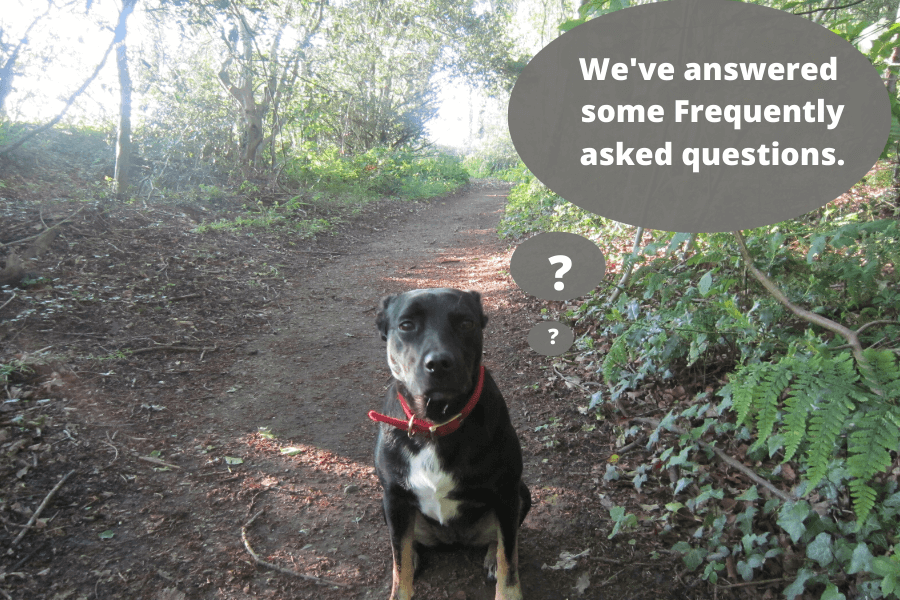 Alas, Leah died in 2021 at an estimated age of 15 after a short illness bravely borne. She was a very friendly part of the Tranquil Otter family and will be missed by us and many of our regular guests. Leah looked after guests at The Otter for fifteen years, and they looked after her. She will long be remembered.
We have often wondered about her heritage. She was mostly Collie but looking at her colouring we think that there may have been a bit of Rottweiler or Alsatian.
We now have two Tranquil Otter dogs – Lola, a collie/kelpie cross working sheep dog and Marley, a charming rottweiler. You'll see them out around the place. Both are friendly well-trained dogs but not suitable to be left to wander independently like Leah.
FAQs About Communications
How do we contact you if we have any lodge or sit problems during our stay?
If you have any problems or need further information during you stay you can:
speak to the staff in person who will be either in the office (between lodges Egret and Fieldfare), around the site or servicing hot tubs Monday – Friday 9am – 4pm and Saturdays & Sundays, 10am – 12 pm
or phone on 01228 576661 leaving a message if necessary, or email on in-stay@thetranquilotter.co.uk.

 

We aim to respond within a couple of hours to messages between 7am and 6pm or by 9am in the case of overnight messages.
Is there mobile reception on site?
Mobile reception is poor at The Tranquil Otter. There is good Wi-Fi in each lodge, enabling you to use Wi-Fi calling which is available from most service providers meaning that you can make calls and send text messages as long as your device is connected to Wi-Fi. This can usually be switched on in a phone's network settings.  The W-Fi will also allow you to use apps such as WhatsApp and Messenger to make audio calls.
Is there Wi-Fi at The Tranquil Otter?
Each lodge at the Tranquil Otter has a fibre connection. Access to the Wi-Fi is free via a sign-up page.  The network name is Tranquil-Otter-Guest. Please click this and wait for the sign-up page to pop up on your screen. Then select how you would like to sign up. Make sure you pick a memorable password as you will use this password to log in next time you stay with us.
Will we be able to connect all our devices to the Wi-Fi?
If you plan to bring a game console or device that does not have signup page, such as
Amazon Echo
Google Chromecast
Apple TV
PlayStation/ Xbox
Amazon Fire Stick
our Wi-Fi gateway provider will need to whitelist the MAC address(es) your device(s) before they can connect to the Wi-Fi. Please email your MAC address(es) to support@wireless-social.com with the subject heading "The Tranquil Otter".  This is best done several working days before your arrival.
If you are planning to connect your laptop to the TV, then you'll need to pack an HDMI cable.
Note: A Media Access Control (MAC) address is a unique numeric identifier, assigned by the manufacturer, to distinguish a device from others on a network. To find the mac address for your particular device follow this link and select your device from the list for a quick guide.
How do I use a Gift Voucher Code?
To redeem your voucher, book your stay from our "Book Now" page.
Select your dates and complete the booking form. You will have the option to add your voucher code on this form.
The following terms and conditions apply to all gift vouchers and voucher codes:
The Gift Voucher may be used as full or part payment for any length of stay at the Tranquil Otter.
The Gift Voucher may be used to make any booking within dates issue with the voucher.
The Gift Voucher may not be redeemed for cash or to buy another gift voucher.
Gift vouchers may not be combined with other promotional offers.
The Gift Voucher must be presented during the booking process.
The Tranquil Otter's standard terms of occupancy apply to all bookings.