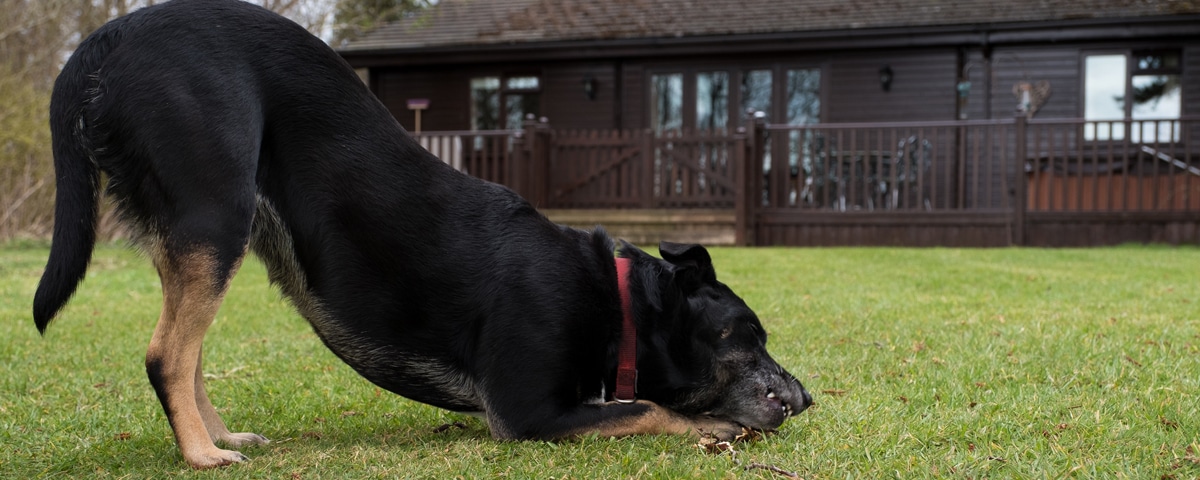 Dog-Friendly Lake District Walks
Well-behaved four-legged friends always get a warm welcome from The Tranquil Otter. On this page, we have set out some basic rules that enable us to welcome well-behaved dogs and provided information on dog-friendly Lake District walks.
Our own dog Leah (AKA Queen of the Realm) loves the freedom she has to roam and run in the countryside.
It is easy to bring your four-legged friends on holiday with you at the Tranquil Otter. We welcome well-behaved dogs. We've found the following basic rules enable us to meet the needs of guests accompanied by their dog as well as guests without pets.
Well behaved four-legged friends welcome – some basic rules
If you would like to share your holiday with your dog, we have a few things we need to share with you in advance of your stay.
The owners are fully responsible for anything done by their pet. Pets can't be left unattended in the lodge. If you plan to leave your pet in the lodge we recommend that you bring a cage that your dog finds both comfortable and regards as a safe space.  You also need to let us know that you are leaving your dog alone in the lodge.
Pets shouldn't go into bedrooms or on beds or chairs under any circumstances, nor may they be dried with, or sleep on, any of the linen or furnishings provided. We can provide you with towels to use during your stay.
Pets should have their own beds or blankets to sleep on. Please bring these with you.
Pets are to be cleaned and, if wet, towelled dry before entering lodges.
Pets are not to be allowed to foul the Lodge, decking, roads, paths or lawns of the site. In the event of a pet fouling any of these areas the owner must immediately clean it up and dispose of the fouling in the bins provided.
Pets must not be allowed to disturb other Guests (for example, by excessive barking) or wildlife (by chasing ducks or swans) and are to be under control at all times. We understand that many of our guests are able to keep pets under control without a lead and that is fine. We ask that your dog is kept on a lead around the lodges and near the Lough House.
There is space in the woods and local walks where your dog can be let off lead.  You may also enjoy Fingland Rigg Wood, natural English woodland and one that offers an interesting place to explore for adults, children and well-behaved dogs.
There is a fixed charge of £40 per dog with a maximum of two well-behaved dogs per lodge.
Favourite Dog-Friendly Lake District Walks
Many of our guests who bring dogs, ask for recommendations for dog-friendly walks that allow them to get the full 'lake district and Cumbria' landscape experience. Many of the popular Northern Fells and Lake District Walks are accessible within an hour's drive. Below we've listed some of our favourites.
Solway Villages
The Solway region is a special area of conservation and comprises coastal dunes, salt marshes, mires and delightful villages. This delightful circular walk takes you from the Lough at The Tranquil Otter (which is now a site of special scientific interest and home to birds and wildfowl) through a tour of the local villages. It's perfect for you and your four-legged friends to get your bearings before venturing further afield to more adventurous and longer walks
Dodd Wood
Dodd Wood is a delightful place for walking with your dog. It is situated on the East shore of Bassenthwaite Lake and has lots of trails and viewing points to take in some breathtaking scenery. It's also a popular place for viewing Ospreys. Dodd Wood Summit and other trails can be found at Dodd Wood Walking Leaflet
Catbells
This is a very popular and picturesque Lake District Fell walk with exceptional views of Derwent Water. It does get quite busy, so unless you're on the fells before 10am, expect to see many other people (and dogs) on the walk.
The walk starts with a climb of about 450m, the path is steep, rocky and slippery in parts; a map, compass, walking boots and waterproof clothing are a must.
Aira Force
The National Trust describes Aira Force as 'a showcase for the power and beauty of nature." We think it's a pretty accurate description. It's a magnificent waterfall and a network of trails that weave their way from Ullswater lakeshore to Gowbarrow summit. It's truly breathtaking.
It's only about a 40-minute drive from the Tranquil Otter. It's great with teenagers who make mincemeat of the stairs and are captivated by the waterfall.
Free parking for National Trust members.
Found near Watermillock, Penrith, Cumbria, CA11 0JS – postcode takes you to the general area. More information about Aira Force can be found here nationaltrust.org.uk/aira-force.
Download an intermediate (4.5 miles) walk around Aira Force and Gowbarrow from the National Trust.
OS Grid Ref: 90:NY401203
For more information on amazing places to visit in Cumbria, take a look at our 'Things to Do' section.