Early bird gets the worm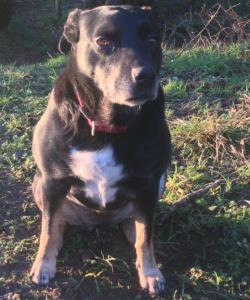 Early bird – Leah works on this same principle in order to get a treat. An early riser, she aims to slip out of the door when Nick goes out to fire up the boiler. Leah reckons on doing a morning round to each lodge to see what she can get in terms of treats. Leah has a "feed me" face, we do feed her at home. Please do not be tempted to throw a scrap of sausage or bacon her way. She'll never leave your side.
Lodge rules
Leah is a well-behaved dog. As part of the Otter team, Leah is not allowed to go into the lodge. However, she is easily tempted. Please don't encourage her into your lodge, whether she is an early bird or not. We allow Leah her freedom, however if she disappears for long time, we do have to keep her under tabs.
Walking Guide
As you know Leah loves escorting guests around the lake and has asked we post this selfie she took earlier, just so you know how important she is to the Otter.
Well behaved dog
If you want to go round the woods with Leah, she's asked us to let you know that your dog needs to follow her example. Leah never goes into the bedroom, or sits on the sofa. She is very good about making sure that she doesn't leave things round the woods. She has asked us to let you know that she does like chasing the odd deer, she cannot resist the temptation, and anyway they are faster than her. Leah never chases sheep and would like to share some recent photos taken around the lake.
Bringing your dog to the Otter
We welcome well behaved dogs. For more information on dogs at the Otter, please have a look at our terms and conditions at 
Terms and Conditions
.