A Must Visit – Wigton
Visit Wigton, one of Cumbria's hidden gems.  Wigton is a small delightful Medieval market town that dates back to 1262. Wigton is on the edge of the Lake District and is close to the Solway coast. It's also the birthplace of writer and broadcaster Lord Melvyn Bragg who remains one of the town's most active supporters.
Wigton is also home to Innovia Films, the makers of the 'plastic' banknotes and is reputedly the most haunted town in Cumbria (learn more at Supernatural Cumbria by C C Ivison).
The Memorial Fountain
One of Wigton's most striking features is the large granite fountain in the middle of the town. It was built by George Moore in 1872 as a tribute to his first wife Eliza.
The memorial fountain is 33 foot tall and built from Shap granite and adorned with four bronze relief showing the Acts of Mercy by Pre-Raphaelite sculptor Thomas Woolner. It's well worth a closer look as above each sculpture is a carving of the face of showing the Acts of Mercy, 'Visiting the Afflicted', 'Clothing the Naked', 'Instructing the Ignorant' and ' Feeding the Hungry'. Above each sculpture is a carving of the face of Eliza Moore surrounded by leaves.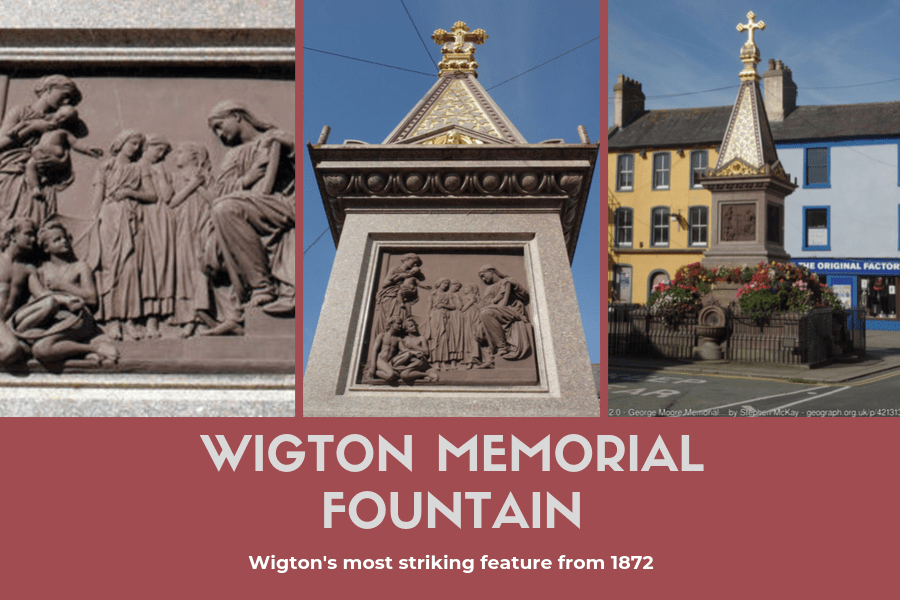 The fountain cost a small fortune at £12,000 and was restored in 2004 with the help of the Solway History Society.
Learn more about George Moore's fascinating life at www.mealsgate.org.uk/george-moore
Monkey Tree
Set back from the main road, the Monkey Tree is bistro/delicatessen with a great selection of food and deli counter. The ladies who run it are lovely, as is the coffee.  It's a great place to have coffee and cake, lunch or a take-away meal to enjoy in your lodge.
Contact number 01697 345898
They describe their food as:
Slow cooked with love and no crap.
Learn more www.facebook.com/monkeytree.wigton
Lightfoot Greengrocers
Whilst you might not travel to Wigton from the Tranquil Otter for the Greengrocers, once there, Lightfoots is well worth a visit. Traditional Greengrocers with local cheese and farm products.
Shops with local flavour
Woolsty Crafts is a great shop if you have rediscovered knitting and crochet. Bryce's chippy is a great favourite too.
St Mary's Church
St Mary's Church in Wigton is a "must-see", it was built in 1878 for just under £1500. The Church has a famous Harrison & Harrison Organ and eight bells were hung to make the Millenium. It is a beautiful Georgian building where Lord Bragg served as a choir boy. The east window boasts beautiful stained glass windows. Three contemporary windows were commissioned by Lord Bragg which incorporate pictures of buildings in the town as well as symbols and images and were manufactured by a local craftsman Alex Graves, combining Wigton's history, commerce and culture with the Church's strong spiritual and pastoral role in the local community.

Stained Glass windows looking towards the East.

Windows to the right as you walk in.

The new windows commissioned by Lord Bragg and manufactured by Alex Graves of Brampton.
Things to do nearby
Learn more about things to do near the Tranquil Otter at www.thetranquilotter.co.uk/things-to-do