Miles without Stiles in Cumbria
A series of easy routes around the Lake District
Miles without Stiles are a series of 48 gentle routes across the Lake District National Park that are suitable for people with limited mobility, including wheelchair users, families with pushchairs, and those who want a simple route to see some beautiful scenery without too much effort.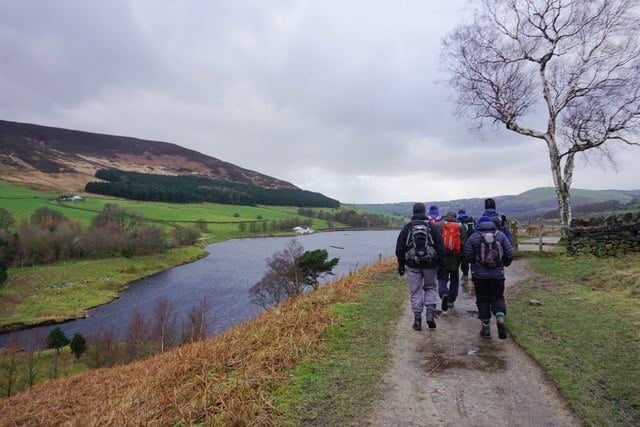 When selecting a Miles without Stiles walk, there are three simple categories or grades to look out for.
For All
Walks classified as 'for all' are suitable for everyone, including pushchairs and people operating their own wheelchairs. The ground surface of these routes will be mainly tarmac or smooth impacted stone, with a diameter of 10mm or less. The path width will be a minimum of 1 metre with passing places.
For Many
These walks are suitable for assisted wheelchair users and families with more robust, all-terrain type buggies. These walks may have a small gradient, but no more than 1:10. The path surfaces will probably be made up from rougher stone of around 4cm or less.

For Some
This category is only for strong and confident wheelchair users. These walks may also be suitable for off-road mobility scooters. Gradients will be between 1:10 and 1:8. Where the slopes are at their steepest, you fill find improved surfacing or handrails to help. Also, watch out for some low steps or breaks in the surface – these could be up to 10cm in height. The stone surface materials will also be rougher, but still manageable. Some of our nearby Miles Without Stiles favourites include:
Mirehouse to St Bega's Church
This walk is suitable 'for all'. It starts from Dodd Wood car park and offers a pleasant walk with fine views of the Mirehouse (a stately home dating back to 1666), and takes you to the pre-Norman church of St Bega.
www.lakedistrict.gov.uk/mileswithoutstiles/mws29
Pooley Bridge to Gale Bay
This is a 0.9 km linear route along the shore of Ullswater, providing superb views along the northern reaches of the lake. The wide path is well suited for wheelchairs and pushchairs. There is one gate to pass through on the way to the boathouse where there is a seat. It's a short but splendid walk.
www.lakedistrict.gov.uk/mileswithoutstiles/mws1
Catbells
The first section of this walk would be categorised as 'for some'. It's a little bit challenging. But then after that it opens out and offers stunning views across the lake to Keswick, framed by the mountains of Skiddaw and Blencathra. The nearest island is St Herbert's Isle, named after a 7th century monk who lived there. Friar's Crag on the other side of the lake is named after the monks who used to row out with supplies for him. The best views are just past some old quarry workings.
www.lakedistrict.gov.uk/mileswithoutstiles/mws33
Buttermere Lakeshore
This is a beautiful walk that's usually quiet. It doesn't attract the same crowds as some of the other more 'famous' walks. From the lakeshore you get magnificent views of Fleetwith Pike and Haystacks fell.
www.lakedistrict.gov.uk/mileswithoutstiles/mws25
Walls Drive, Ravenglass
Ravenglass is a historic national park coastal hamlet, lying on the estuary of three rivers – the Esk, Mite and Irt. It became an important naval base for the Romans in the 2nd century.
www.lakedistrict.gov.uk/mileswithoutstiles/mws20
Overall, the Miles Without Stiles walks are perfect for all ages, all abilities and will offer you the full effect of the Lake District without too much exertion.