The Lake District and surrounding areas have become famous for its daffodils. Along with gambolling Herdwick lambs and bluebell woods, the Daffodil is an iconic symbol of springtime in the Lake District. Thanks to William Wordsworth and his famous poem, The Daffodils, this simple, trumpet-shaped bloom has become an annual tourist attraction between the beginning of February and the end of April (depending on the weather). You can visit the Wordsworth Daffodil Garden in Grasmere to get the full poetic ambience, but you'll find many places in the Lake District festooned with Daffodils.  Caldbeck Fell, Ullswater and Derwent Water are particularly beautiful spots for Daffodil sightings. You can also visit Dalemain House, Acorn Bank and Lowther where you will also find stunning displays of Daffodils over the spring. The Ambleside Spring Flower and Daffodil show usually take place on the 3rd Saturday and Sunday of March (pending confirmation of dates for 2020). 
Directions via Googlemaps
To help you get in the mood, here's the famous Wordsworth poem that was written in 1802.
The Daffodils
Most people only know the first couple of lines of this famous poem. By William Wordsworth
I wandered lonely as a cloud That floats on high o'er vales and hills, When all at once I saw a crowd, A host, of golden daffodils; Beside the lake, beneath the trees, Fluttering and dancing in the breeze.

Continuous as the stars that shine And twinkle on the milky way, They stretched in never-ending line Along the margin of a bay: Ten thousand saw I at a glance, Tossing their heads in sprightly dance.

The waves beside them danced; but they Out-did the sparkling waves in glee: A poet could not but be gay, In such a jocund company: I gazed – and gazed – but little thought What wealth the show to me had brought:

For oft, when on my couch I lie In vacant or in pensive mood, They flash upon that inward eye Which is the bliss of solitude; And then my heart with pleasure fills, And dances with the daffodils.
William was not the only person to put pen to paper about the Daffodils. Dorothy Wordsworth, William's sister wrote this now famous entry in her journal in 1802.
"The wind was furious… the Lake was rough… When we were in the woods beyond Gowbarrow park we saw a few daffodils close to the water side, we fancied that the lake had floated the seeds ashore & that the little colony had so sprung up — But as we went along there were more & yet more & at last under the boughs of the trees, we saw that there was a long belt of them along the shore, about the breadth of a country turnpike road. I never saw daffodils so beautiful they grew among the mossy stones about & about them, some rested their heads upon these stones as on a pillow for weariness & the rest tossed & reeled & danced & seemed as if they verily laughed with the wind that blew upon them over the Lake, they looked so gay ever glancing ever changing. This wind blew directly over the lake to them. There was here & there a little knot & a few stragglers a few yards higher up but they were so few as not to disturb the simplicity & unity & life of that one busy highway… — Rain came on, we were wet."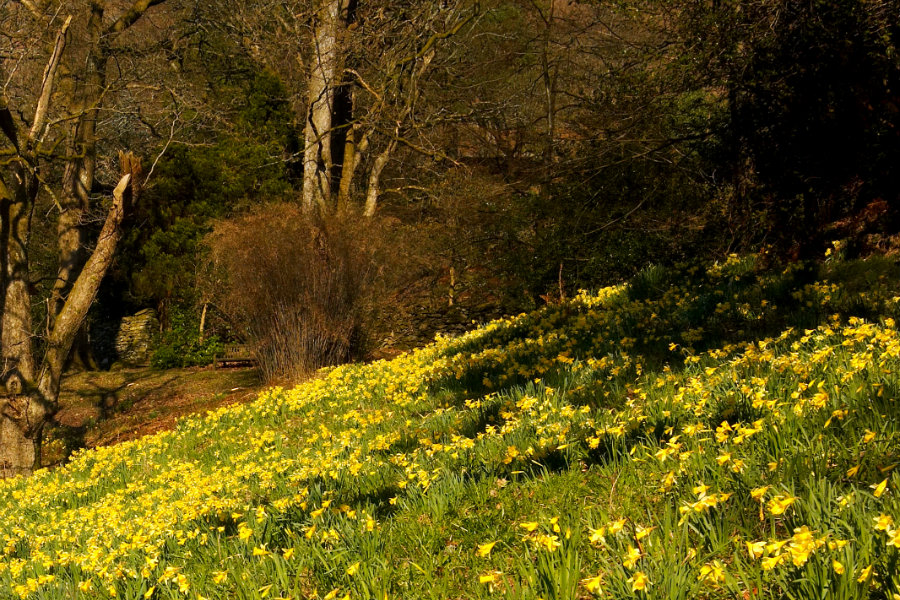 Daffodils – Lake District
Here are some of the places where you can see daffodils in abundance during Spring. Carlisle Cemetry is renowned for its daffodils. We've heard it said, but not seen for ourselves. Something new for our list in 2018. CA2 6AL Caldbeck Fell, near Caldbeck, parking available near Watermill Café CA7 8DR
http://www.watermillcafe.co.uk
Acorn Bank Temple Sowerby, near Penrith, Cumbria, CA10 1SP –  
www.nationaltrust.org.uk/acorn-bank
Dalemain House & Gardens, Penrith, Cumbria, CA11 0HB – 
www.dalemain.com
Lowther Castle, Penrith, Cumbria, CA10 2HH-  
www.lowthercastle.org
Main Street, Cockermouth, Cumbria, CA13 9RX- 
www.nationaltrust.org.uk/wordsworth-house