On the trail of Fortified Churches near the Tranquil Otter
In Cumbria, you're never far from an ancient chapel or solid stone church. There are no fewer than five historic churches within 3 miles of The Tranquil Otter. Today, churches mostly bring to mind christenings, white wedding and funerals. In former times in the bandit-ridden Reiver Country – as the lawless borderlands between the Scottish and English kingdoms were known – the stout stone walls of Cumbria's churches were each village's fortified refuge from bands of marauding thugs. The thugs were dealt with three centuries ago and, nowadays, it's the unequalled peace and beauty of that same Border Country that Tranquil Otter guests treasure for times of relaxation and quiet reflection – and the occasional wedding. We've devised a church trail for guests who enjoy taking a journey of discovery to track down these beautiful architectural works of art – either to worship in or to simply admire. Our local churches provide a fascinating glimpse into our local area's colourful adventures and misadventures – thanks to secrets unlocked by visiting nearby churches.
Here are the nearest five:
St Peter's Church, Kirkbampton
St Peter's church was founded almost one thousand years ago – and despite so much time having passed, it today looks very much as it did when it was built, back in 1194. In that time, it's thoughts only a couple of major modifications have been made to the building, in the form of a Victorian porch and vestry. Upon entry through the carved Norman doorway, visitors can gaze upon the carved Norman chancel arch. Around 150 years ago, restoration work uncovered a Roman carved stone, thought to be from Hadrian's Wall – one of Cumbria's two World Heritage Sites – which was only a mile away from the church. The church's two bells have stood the test of time, having been cast in 1705. Both remain in use today. A further Roman artefact is a stone set in the church's southern wall, with an inscription which when translated, reads 'The troops of the 6th Legion, the victorious, pious & faithful did this work'. St Peter's, Kirkbampton CA5 6JB (1.1 miles from The Tranquil Otter)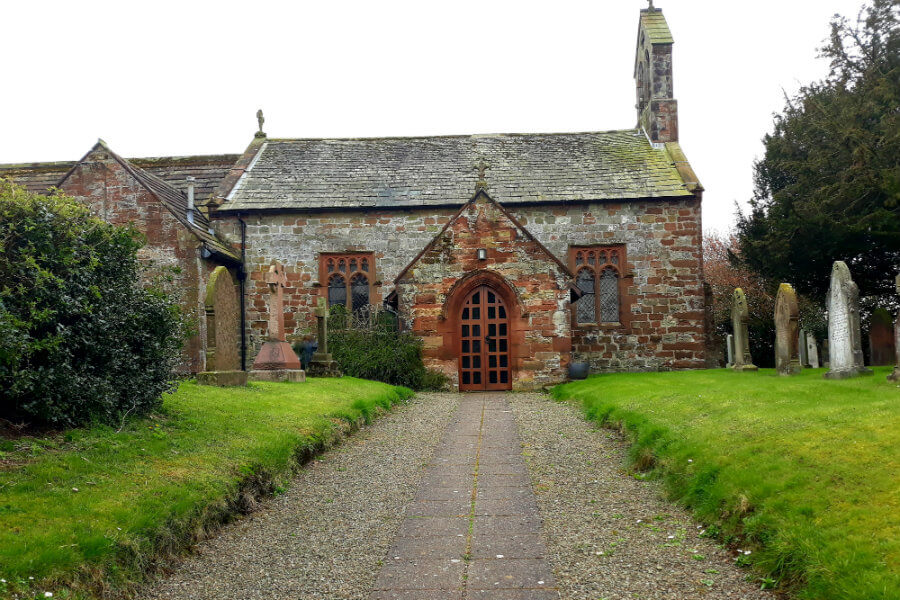 St Giles Church, Great Orton
The Grade II St Giles' Church at Great Orton was founded in 1098 and is thought to be the first church built in what was known as Cumberland after the Norman Conquest. Constructed from sandstone blocks, which again, are thought to have been taken from Hadrian's Wall, many original features remain.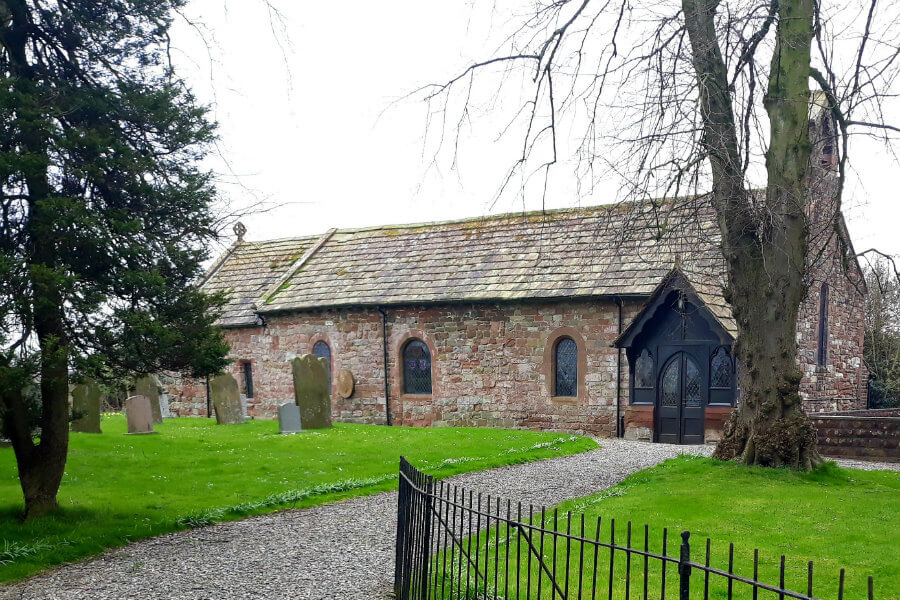 Fortified Church
Its stone walls are up to three feet thick – and with good reason; Being so close to the border with Scotland, the church was subjected to frequent raids and fires. Extended during the 19th century, the church saw the addition of new stained-glass windows included among the improvements. A window depicting St. Giles himself was added in the mid-20th century, while its bell dates back to 1752. St Giles, Great Orton, CA5 6NB (1.5 miles from The Tranquil Otter)
St Michael's Church, Burgh by Sands
This Grade I listed, 12th-century church almost doubles as a small castle, being one of just a handful of churches to be built complete with fortifications. Constructed on the site of the Roman Fort of Aballava and sitting very close to Hadrian's Wall, this church saw more than its fair share of battles during cross-Border warfare and later at the hands of the notorious Border Reivers. King Edward lay in State in this church after his death in the summer of 1307.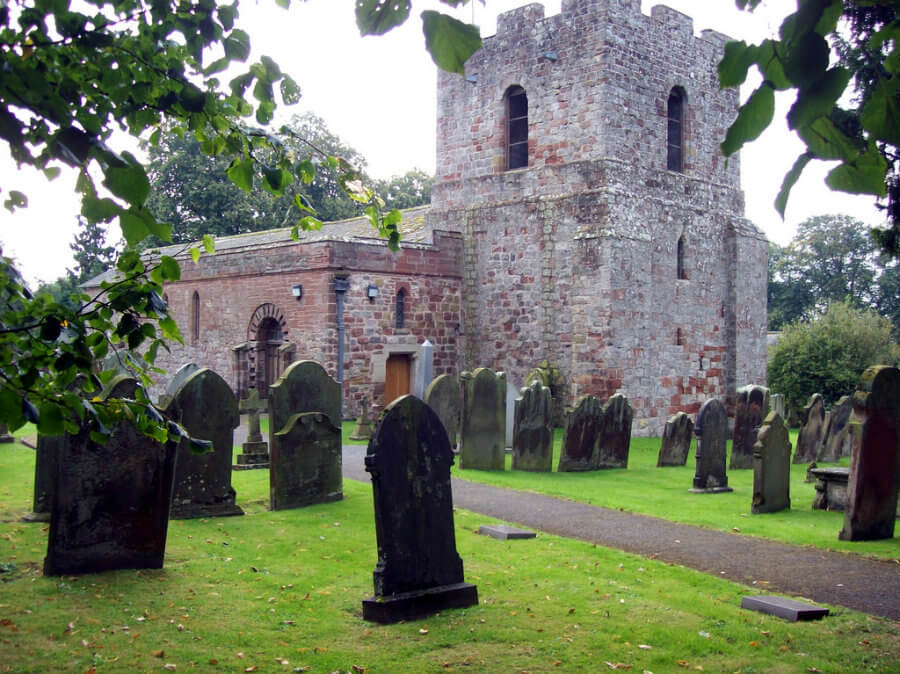 Visitors can walk in his footsteps, described by church leaders as taking a 'Walk Through Time' along the churchyard path, which features a time-line of significant events through the centuries, immortalised in granite. A medieval tower completes the experience, where villagers sheltered during Border warfare. St Michael's Church, Burgh by Sands, CA5 6AW (1.6 miles from The Tranquil Otter)
St Mary's, Rockcliffe
Built in 1848, the reason for the construction of this church was not only to replace a medieval chapel style building, but to serve as an architectural focal point in the landscape. The gothic revival church is built from buff-coloured borders sandstone and was rebuilt in 1890 after being struck by lightning. As "lighting never strikes twice", it should avoid similar strikes for the rest of time… fingers crossed. The building's west window was created by John Scott of Carlisle, with his east window being replaced in the late 19th century. Outside, the yard slopes down towards the River Eden and is surrounded by more sandstone block, forming a wall complimented by a wrought iron fence. St Mary's, Rockcliffe, CA5 6ED (2.3 miles from the Tranquil Otter)
St Andrew's Church, Aikton
Standing in the imposing shadow of Skiddaw and the Northern Fells, the construction of St Andrew's also involved taking stones from the now protected Hadrian's Wall. This Norman church is described as "uncluttered and light", with its original roof timbers supporting its sandstone roof. Its 12th century chancel arch and font both remain, with its south aisle added hundreds of years later, in the late 19th century. The near-complete silence inside the church is interrupted only by birdsong and its two bells – one of which dates back to the 14th century. St Andrew's Church, Aikton, CA7 0HP, (3.4 miles from The Tranquil Otter) We hope you enjoy a tour of the fortified churches of the Solway and perhaps an insight of what it meant to live and work in a territory ridden Border Reivers who shaped so much of this County.