The Tranquil Otter is an amazing spot to relax and rewind largely because of the wildlife, the migratory birds as well as the resident mute swans.  We are also a designated Site of Special Scientific Interest and an important site for the Solway Estuary Wetland Birds Survey.  Our official counter is Trevor, who makes an official count once a month and provides us with a report for our guests.
Wildlife Report February 2018 from the Tranquil Otter
On 3rd February this year, Trevor reported an unusual sighting of a Great Crested Grebe, and wrote:  "A common bird in the area, but not for the Lough with its shallow water and small fish.  It's only the 5th time I've seen a Great Crested Grebe and the first on the Lough since 2013.   It looked settled, but I doubt that it will become a resident."
On 27th February Trevor did a recount to check the Teal and Gadwall numbers as these appeared low and it seemed a bit early for the Teal and Gadwall to be departing.  On checking against last year's count, the number of Teal and Gadwall didn't seem unusual. Trevor reported an increase in the geese numbers, we have noticed this, as geese don't revisit the Lough on an annual basis. Trevor doesn't seem enamoured with the geese.  "I do not mind the wild birds that breed in the arctic and come for the winter, I'm less keen on the naturalised Greylag & Canada geese as he finds them a bit noisy."
Trevor did note that the Great Crested Grebe was still at the Lough on his second visit, perhaps it prefers the Tranquil Otter, even with the geese.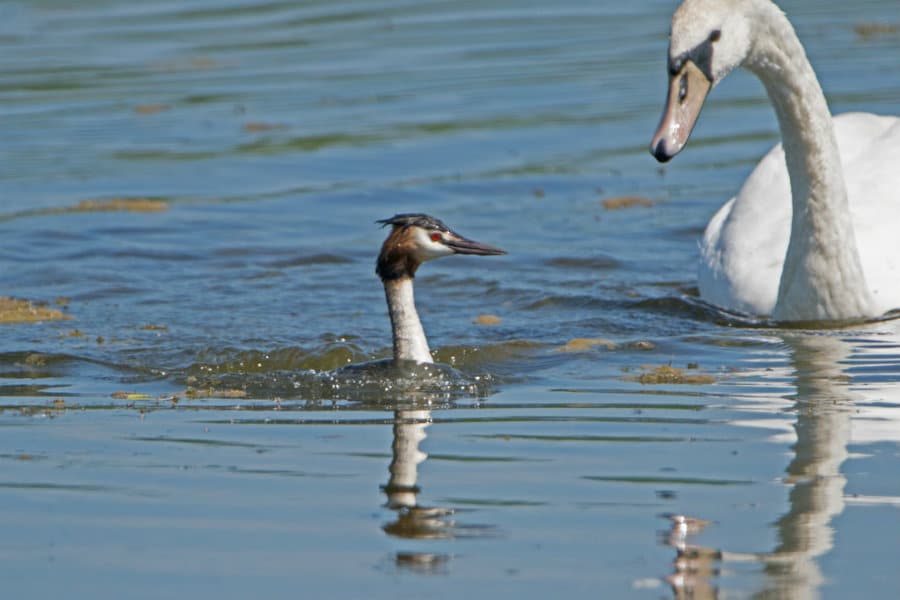 It's very relaxing to watch the birds flit in and out of the reeds
The Lough frequently gets iced over during January and February, which means that the wildfowl only has restricted movement on a small patch of water.  On windier days the birds retreat into the reeds. There's something very relaxing about watching them flit in and out.
Woodland Birds seen during February 2018
Every day you see something new on the Lough, we feel very privileged to live in such a beautiful environment. We know our visitors love it too.
Guests can observe the birds from our bird hide.
As well as our own lake, we also have our own woodland area complete with a bird hide that is available to our guests to use during their stay. Depending on the time of year, visitors to the hide can see kingfishers, curlew, dunlins, oystercatchers, turnstones, godwits, woodpeckers, to name just a few.
Many of our guests have written some comments about what they have seen in the visitor's book. Click here to read their comments.
Nature from a Fresh Perspective: Spend some time in our Bird Hide
Wildlife on the Solway Coast
While we have abundant wildlife activity right here on the Lough, many of our guests like to enjoy the extraordinary variety of wildlife along the Solway Coast. The area is well known for its stunning variety of bird and wildfowl life. The sand dunes, saltmarsh, shingle beds and peat mosses make it a favourite area for oystercatchers, curlews, plovers, lapwings, dunlins, godwits, redshanks and turnstones. This is a glorious time of year for wildlife, so make sure you don't miss it.
More details of the Solway Area of Outstanding Natural Beauty can be found at www.solwaycoastaonb.org.uk/wildlife
Wildlife report from the Tranquil Otter