The Market Hall in Carlisle is a grade 2 listed building, and the site has been in use as a market since 1799 when it was a butchers' market.
Market Hall Carlisle – Indoor Market
The Market Hall Carlisle is one of the few Victorian covered markets still in use today.  We're sure you'll love the signage as well as the aroma from the flower stall when entering from the pedestrianised market.

Food Quarter at Market Hall Carlisle
What I love about the indoor market is that there is a choice of food providers, each offering a limited choice, but what each does best.  As a family group, everyone can have their first choice and then sit and eat together. The range of food options has increased and is still growing – so you never know what you'll find next time you come.  I'd always been drawn to Sylvia's Coffee Shop, the fresh fruit stall and the Coconut Tree Thai Cafe. On recent visits (three Saturdays in a row) I have been prompted to try the greek offering at Gryoplois and Eastern Mediterranean food at Paprika and the Fat Cow milkshake.
The full list of food offering at the Market Hall
Coconut Tree – Thai Food Kalam's Kitchen – British Curries Gyropolis – Greek Street Food Meet me at Millers – Traditional Breakfasts, Fish and Chips and much more Paprika – Eastern Mediterranean Street Food Romano Pizzeria – Hot Pizza, Risotto Balls, Tiramisu etc. The Fat Cow – Doughnuts and Milkshakes The Good Sister – Street Food from around the world Annie's – Traditional hot meals, Snacks and Cakes Sylvia's – Hot Meals, Salads, Snacks and more The Burger Bar – Homemade Burgers, Chips and Cake Totally Scrumptious Henri's – Filled Baguettes, Pasties, Sausage Rolls and Tray-bakes.

Coconut Tree
My favourite is the Thai Cafe. Coconut Tree – an unimposing unit, don't be put off.  It is amazing how the one cook takes simple fresh ingredients and transforms them into superb complex flavours, whilst you wait.  No matter how many youtube videos I watch, I cannot recreate the freshly cooked dishes at this cafe. Nick was blown away, he'd not had Thai food this good since he lived among the North Thai many years ago, and he loves not paying more than a fiver.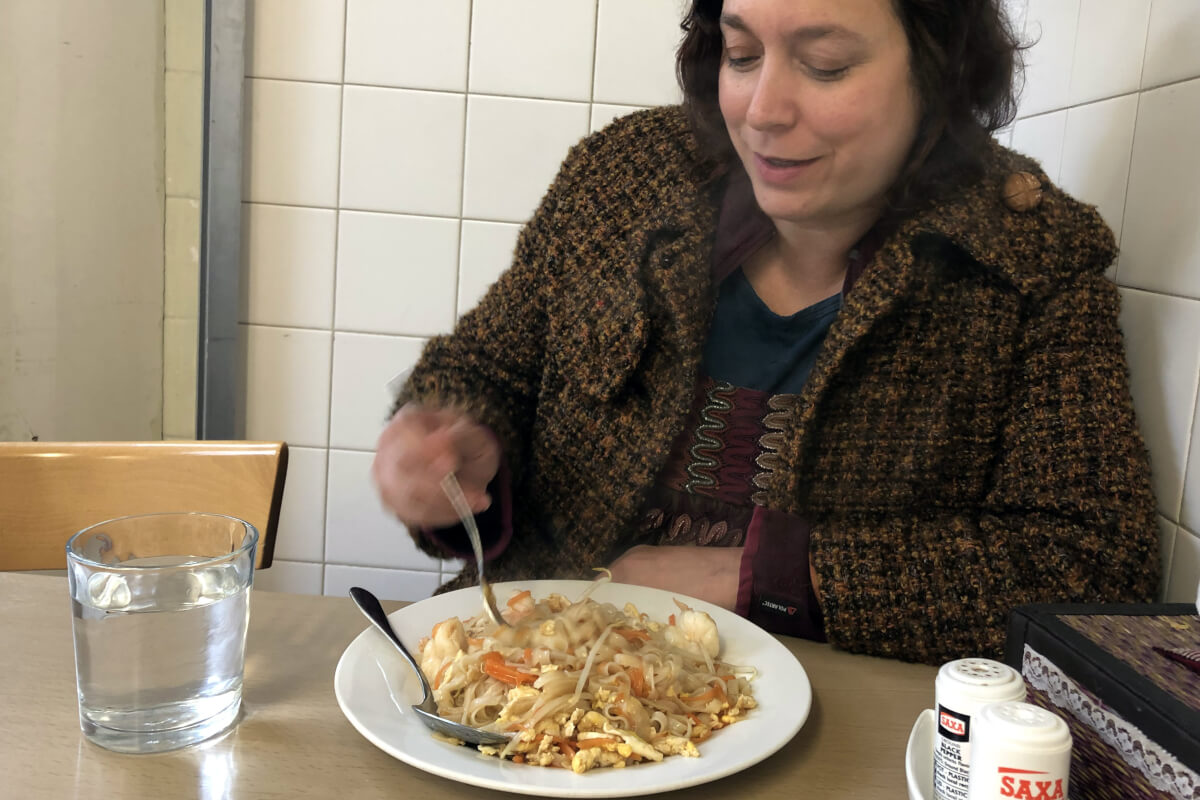 I used always have to prawn noodles, now my favourites include prawn pa nang, vegetarian jungle curry and prawn pad Thai. If you do go to the cafe on Saturday, make sure you are ahead of the Chinese Students from the local school, who order two dishes each, resulting in an up to an hour's wait for your lunch.
Romano Pizzeria
Pizza by the slice and a lot of chat. We enjoyed the pizza slice and could not resist the tiramisu, which was enjoyed at The Tranquil Otter during lunch.

The Cumbria Food Company
A friend recently recommended the wraps available at the Market Hall. I found the stall easily, mostly by following the lovely aroma wafting from the stall. The long queue was also a good sign. The offering is wraps, chicken, halloumi, pork and greek salad followed by Baklava for those with a sweet tooth.

Sylvia's Coffee Shop
Traditional coffee shop producing coffee to be savoured.  I've always enjoyed their soups and sandwiches.  They are always a busy and friendly team.
Paprika Eastern Mediterranean Street Food
The boxes are great value at £4.50 to £5.00, sometimes they run out of food and shut up early. Now that is saying something.

The Fat Cow Donut and Milkshake Stall
Have one two or three flavour shake. I had banana and strawberry milkshake, my young friend had skittles, which apparently provides the best flavours.

The Good Sister
One of our family group had a vegetarian curry from the Good Sister and was pleased with their choice. This is next on my list if I can pull myself away from the Coconut Tree.

Meet me at Millers Cafe
There are days when only a full English Breakfast will do.  Millers also offer ham salad as well as the popular fish and chips.

Interested in the history of the Market Hall in Carlisle, see its Wikipedia entry for more information:
en.wikipedia.org/Carlisle_Market_Hall
Open from 8am to 5pm – closed on Sundays.  The Market, Scotch St, Carlisle CA3 8QX  Office Contact: 01228 513991