Away from the Crowds, Self-catering
We've been busy from the start of lockdown adapting the Tranquil Otter, to continue to offer you in these demanding times your own self-catering, a peaceful retreat away from the crowds. It's been a time for us all to reflect and we've thought long and hard about you, our guests, and what you value most. We've changed the way we do things to ensure the safety of our guests and our staff. For our many regular guests things will seem different, but we're sure you'll still love the Otter just as much as we. However, we won't be able to do it without your help, too. So, please read this note carefully.
The Tranquil Otter goes a step further
The Tranquil Otter has always provided fabulous self-catering accommodation in a beautiful, peaceful, remote setting where your time is always your own. Till now, you would pick up the key and, if you wished, we'd come to check that you were having a great time.  Otherwise, you never needed to be troubled further.  Now, with safety in mind, we're taking your peace and seclusion a step further with new keycode locks for self-check-in, our up-to-date online visitor guide, high-speed internet plus the option to facetime, phone or even Zoom us with any questions. Truly, away from the crowds!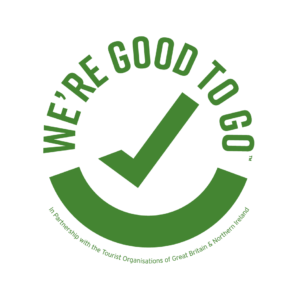 Peaceful & safe self-catering
• Each self-catering lodge with its hot-tub is a clean, safe and secluded retreat.
• Every lodge has its private parking space.
• Lodges are aired, cleaned, replenished and then sanitised between stays.
• Our secluded woods and lake are for the private enjoyment of our guests.
Please, please if something is not right, let us know
What to expect in your lodge
• Tea, coffee, biscuits on a welcome tray prepared in advance.
• Milk in the fridge in a bottle sanitised on the outside.
• Hand sanitiser in the lounge
• Soap in the kitchen
• Hand wash in each bathroom
• Sanitising spray and clean cloth for wiping surfaces in the bathroom – please place the cloth in the bin on departure.
• Beds made up and ready for use.
• Duvets, pillows, cushions changed after every stay and stored for at least three days.
• Bed-linen and towel sets and dressing gowns from the laundry that have been handled by only two members of staff both wearing PPE, one unpacking the laundry and one making the bed.
• Hot-tub, including the cover, cleaned and sanitised.
• Water quality in the hot-tub checked and touchpoints sanitised daily.
You will not need to meet anyone on our team but please keep the social distance from our staff as they care for you behind the scenes
PLEASE NOTE: We do not provide or encourage wipes, especially not down the toilet! We have a septic tank and anything other than toilet paper flushed into the system can lead to all toilets being blocked.
Read the Tranquil Otter's risk assessment
What we have taken out of from our lodges:
Some items cannot be safely sanitised, so we've removed them. We hope that this works for you.
• Hairdryer
• Iron
• Ironing board
• Games
• DVDs
• Books
What we have added
• A sanitised, wipeable remote for the SMART TV
• A Smart Lock on the door to your secluded and secure lodge which can be opened with a keycode which we will email you.

We need your help, too
1. Please follow the Government's guidance https://www.gov.uk/coronavirus. Stay at home if you or someone you live with has any of the following:
• a high temperature
• a new, continuous cough
• a loss of, or change to, your sense of smell or taste.
2. Please download the new Tranquil Otter Hottub disclaimer, complete it and email it to us at info@thetranquilotter.co.uk before arrival.
3. We'll provide you with bags for the following items of laundry which go straight to our laundry.
• Bath sheets and hand towels
• Bathmats
• Towelling dressing gowns
• Bedsheet
• Duvet cover
• Pillowcases
Put them all in the bags provided before you leave. We have to ask you to do this. If our staff have to do it, they must wear one-time-use full clinical standard PPE for which we have to charge.
4. Leave the pillowcase protectors on the pillows and the mattress protectors on the mattresses. We will change these.
5. Leave all Pure Lakes bottles in the lodge so that we can refill these for the next guest. We charge £5 for any bottle removed from the lodge. You can order products from Pure Lakes on https://www.purelakes.co.uk/collections/all-products, ask us for the discount voucher.
6. Leave the windows partially open so that the lodge can air before our staff go in.
7. Text us on 07500 561899 so that we can leave the lodge vacant for an hour before our team goes in.
How our staff will work
• Our staff will be cleaning in teams of two,
• We shall be wearing PPE, changing gloves for each area as appropriate.
• We have changed the cleaning materials we use to ones that have been tested for use on COVID 19.
• We follow the officially recommended cleaning protocols
We look forward to welcoming you.