Discover Hadrian's Wall
Birdoswald is the remains of a once-impressive 5-acre Roman fort known as Banna. A visit to Birdoswald Roman Fort is a must in getting a sense of the Roman Frontier in England. A place where 800 men, mostly from modern Romania (Dacia Regiment), were garrisoned.
Birdoswald Roman Fort
The setting of Birdoswald, on the ridge overlooking the gorge at the River Irthing, provides magnificent views of the valley below. The architect would have sought to have an advantage over the enemy in hostile and contested territory. A hard border is not something that would have appealed to the residents North of the barrier. English Heritage has set up information boards to help you navigate the outlines of the partially excavated fort. It is worth seeking out the East Gate, which is the best-preserved fort gate along the Hadrian's Wall.

Post-Roman Inhabitants
Birdoswald's history didn't end with the Roman Empire. The experts believe that the Roman Garrison became an independent "Warband" and became part of the Border Reiver story. Who can tell? You can find out the story of what happened in the last 1,900 years since the Romans left from the remains of the buildings found at the site.

Hadrian's Wall
The remains of the longest continuous stretch of Hadrian's Wall that survives anywhere on the Roman Frontier runs east from the Birdoswald Fort, learn more
www.thetranquilotter.co.uk/hadrians-wall-carlisle
.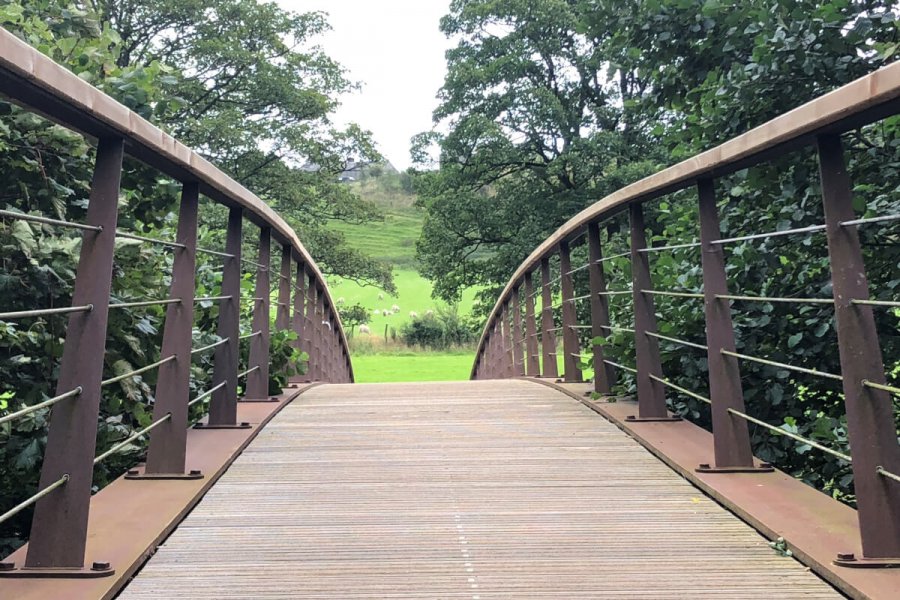 The countryside along the stretch of the wall that remains is beautiful and full of delightful views.

A Day Out from the Tranquil Otter
The fort is a short drive from the Tranquil Otter. The visitor centre has interactive displays and great activities for primary school-age children. The Fort is also a great base from which to enjoy the beauty of the wilderness of the surrounding countryside. We can provide you with details of a delightful walk from the Gilsland Spa 'Popping Stones', where legend has it Sir Walter Scott proposed marriage to his wife. With so much to take in, we recommend a scenic drive via Lanercost Priory for a perfect day out for the whole family.
www.english-heritage.org.uk/birdoswald-roman-fort