Pantomime comes to Town 
Christmas is not the same without a visit to the theatre. Whether it is the village hall, the Sands Centre in Carlisle or the Theatre by the Lake, there is a choice of pantomime in the Lake District and Cumbria.
Snow White and the Seven Dwarfs, The Sands Centre, Carlisle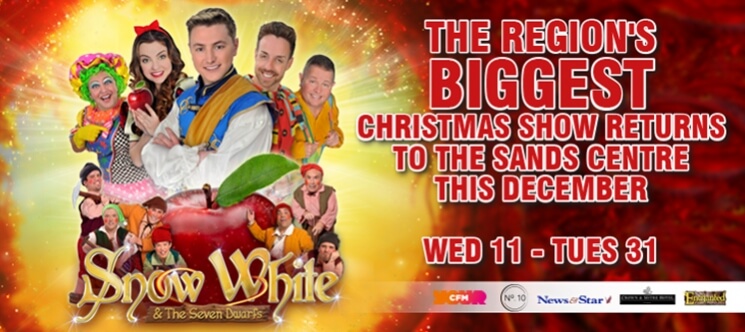 "Oh no it isn't!" "Oh yes it is!" This year's top Carlisle Pantomime is Snow White and the Seven Dwarfs. The Sands Centre's annual panto draws in audiences from all across Cumbria and the North West. Everyone knows the story, of course, of wicked stepmothers and "mirror mirror on the wall". And Snow White being the 'fairest in the land'. It's a show for the whole family to enjoy. Sing along to "Heigh-Ho" and "Whistle While You Work". Amazing costumes and slapstick comedy are guaranteed. Matt Pagan from Collabro and Hollyoaks' Sarah George head the cast.
Dates & Booking
Wednesday 11th December – Tuesday 31st December 2019 Book online at
https://thesandscentre.co.uk/events/Snow-White-The-Seven-Dwarfs-Christmas-Pantomime-655
A Christmas Carol –  Theatre by the Lake, Keswick
Enjoy a timeless story, joyfully retold, with puppets, music and dance. A miserable, mean old miser is visited by three ghosts and rediscovers the joys of life and his philanthropic soul. Keswick, while not exactly on our doorstep, is well worth the effort by making a day of it with the walk to down to Derwentwater and then to Friar's Crag. Combine your visit to the theatre with a meal there or at one of the many nearby restaurants; you will almost certainly need to book a table in advance.

Dates & Booking
Friday 22nd November – Saturday11th January 2020 Book online at
https://www.theatrebythelake.com/contact
Puss in Boots. Upfront Puppet Theatre, Penrith
Computer-generated imagery has taken over the universe, fight back and go vintage. This year's Upfront Puppet Theatre's production of Puss in Boots takes its inspiration from the original French fairy tale. The Miller dies; his three sons inherit his estate. On the face of it, the youngest son loses out by inheriting only the family cat. There the story begins, with puppets, music and all the magic of Christmas.

And you can meet the puppets and their masters at the interval!
Dates & Booking
December 15th, 21st & 22nd @ 2:30pm December 23rd & 24th @ 1pm & 3:30pm December 28th, 29th, 30th & 31st @ 2:30pm January 2nd, 3rd & 5th @ 2:30pm Book online at
https://www.ticketsource.co.uk/upfrontartslimited/e-mxkayz
Book your lodge stay in December
There is still time to enjoy a short break in December at the Tranquil Otter.
Christmas Hot tub Holiday