Welcome back
It's great to welcome guests again! The Tranquil Otter re-opened on the 12th April 2021; many of our local pubs, restaurants and cafes will be opening next week, beginning on 17th May. We're so pleased to welcome them.
Here are the details of some of our favourites.  Please contact them for details.
Local Pubs
The Royal Oak Inn, Moorhouse
The Royal Oak is the nearest pub to the Tranquil Otter, just an easy walk away (1mile).  Steve and Lynnnow provide outdoor seating with an open-sided tent to keep the rain off and a good size lawn for children to run around on.
Dogs welcome in the bar – and in the tent!
Royal Oak Inn Moorhouse Facebook Page.
CA5 6EZ | 1 mile | 01228 576475.

Drovers Rest, Monkhill
The Drovers Rest has a great reputation for good food and great ales. Tom McMaster and Beki Bowles now run the pub. Tom was originally a butcher and champion sausage maker. You won't be surprised to hear that he makes the sausages, mayonnaise and chips from scratch.  Also has a covered outside seating area.
Sundays mean roast dinners, including vegan. Dogs welcome.
CA5 6DB | 3 miles | 01228 576141
The Wellington Inn, Great Orton
The Wellington Inn in Great Orton provides great value meals using meat supplied by our local butcher Jimmy Mulholland who also provides welcome packs to Tranquil Otter.
CA5 6LZ | 2 miles | 01228 710775
The Greyhound, Burgh-by-Sands
This pub, with a statue of King Edward 1, known as Longshanks and "Hammer of the Scots" who died in the village, has opened a massive beer tent and a range of excellent local ales, plus a large area for footy kick-abouts etc.
CA5 6AN | 2 miles | 01228 575168
Local Shops
If you prefer to cook in your lodge, Cranstons at Orton Grange (3.5 miles) have a wide selection of prepared meats for the oven or BBQ. They also have a hot counter and have a small selection of vegan rolls and pies. The click and collect and delivery service are on their website. https://cranstons.net/

Children's Play areas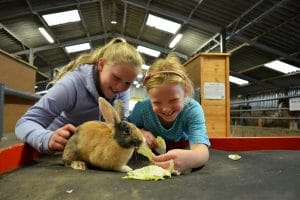 Walby Farm Park
The outdoor play areas opened on 12th April, and indoor sections are due to reopen in line with the Government Guidelines from 17th May.
Please check their website for details of how to book. www.walbyfarmpark.co.uk
Bitts Park
Carlise is spoilt for choice when it comes to the Parks and playgrounds. Bitts Park is next to Carlisle Castle and has a great outdoor play area with giant outdoor musical instruments that both adults and children can play.